~ Newberg Noon Rotary Club Newsletter for July 15, 2020 ~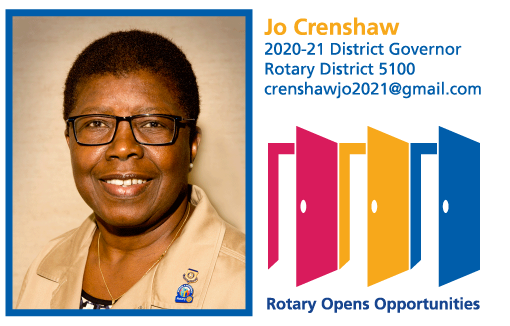 2020-2021 District Governor, Jo Crenshaw:
What a way to start a Rotary year! The doors are open for an excellent year, and this is the appropriate theme: ROTARY OPENS OPPORTUNITIES. Our committees are continuing with their support of our updated Strategic Plan. Locate their links and lend your support to achieve our goals.
Once again Mike Caruso provides us with the Rotary opportunity to meet via his ZOOM account. Each week he has provided the information YOU need to connect into our virtual meeting. SO…double check your e-mails for this valuable on-line assistance!
[AND…thanks to Auggie for the PLETHORA of PICTURES!]
~ Rotary Club of Newberg Zoom Meeting ~

Wednesday, July 15, 2020
~ Call to Order ~

President Shannon Buckmaster welcomed Rotarians and Friends of Rotary to the Zoom meeting at 12:03 p.m. Wednesday, July 15, 2020.
~ Shannon then led us in The PLEDGE of ALLEGIANCE ~

~ Zoom Meeting Participants: ~

Mike C., Paula, Dan, Kathie B., Paul, Shannon B., Lynn, Michelle, Ralph, Judy, Joe, Todd, Tony, Brandy, Dale, Lisa, Laura, Om, Auggie, Shannon K., Curt, Karen, Stan, Matt, Denise, Walter, Julie.
~ Guests ~

Larry Strober, Rotary Club of McMinnville Sunrise
Linda Sandberg, Rotary Club of Newberg Early Birds
Dennis Lewis, Rotary Club of Newberg Early Birds
~ Rotary Foundation Board of Directors Election ~

There is a vacancy on the Rotary Club of Newberg Foundation's Board of Directors. If you are interested in serving on the Rotary Club of Newberg Foundation Board (three-year term) please contact Shannon B. at: wishingheart33@gmail.com and Shannon K at: shannon.knight@cesco.com. Auggie and Spike will also be on the ballot.
~ Membership Committee Needs Members ~

Membership Director Kim Abraham is seeking an active Membership Committee. Committee members will assist in follow up on membership leads and retention of current members. If you are interested in serving on the Membership Committee please contact Kim at: kabraham@directorsmortgage.net
~ Rotary Mural Update ~

Geoff Gilmore invites Rotarians to go by the Newberg Public Library Annex and encourage our George Fox University 2019 mural artists. When you stop by, identify yourself as a Rotarian. Someone will take your picture with the interns. Our Interns will be painting through Friday, July 17th.
Rotary Mural Project #2 in Progress! This is on the east face of the Library Annex. If you are "out and about", drive by and give a "shout out" to GFU students who may be working on this terrific new mural!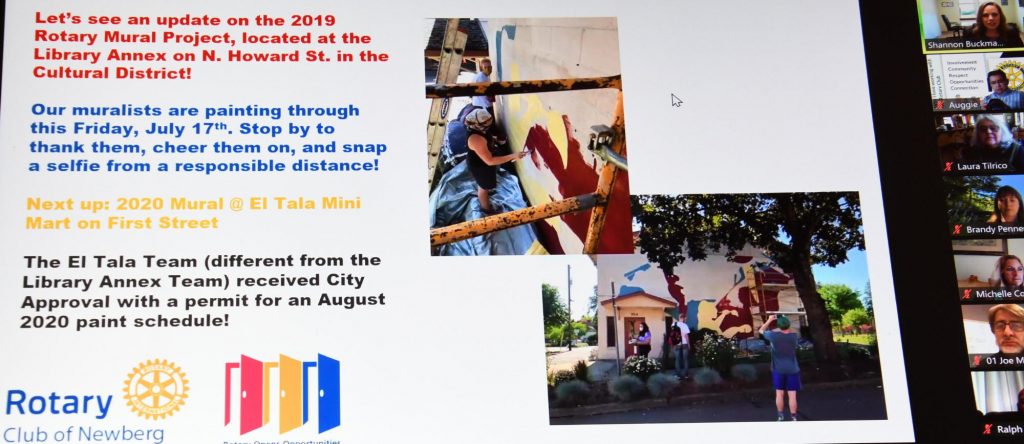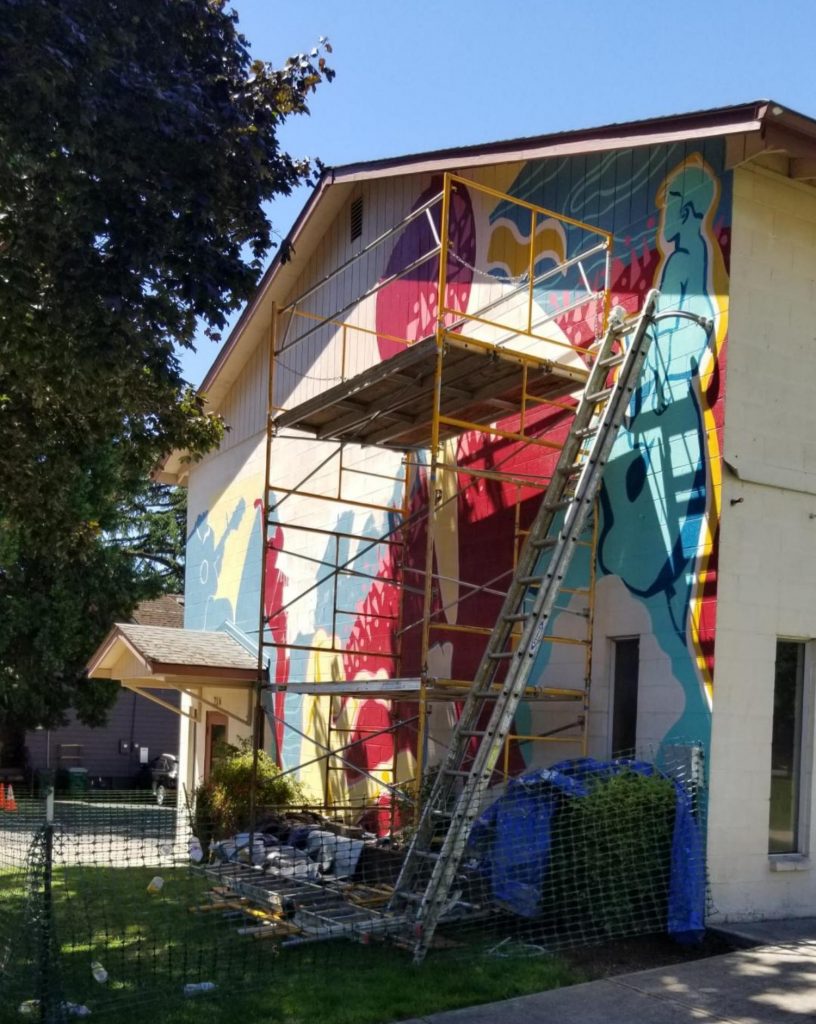 ~ What a GORGEOUS ROTARY MURAL!!! ~
Next up is the 2020 mural at
El Tala Minit Mart.
This week those interns (different group than the Library Annex team) received their final Newberg City Approval and Permit so they now can paint! We are looking at an August paint schedule.
~ Duck Donations ~

In this "virtual" world, our Board of Directors created a new process for Duck collections.[*]
On the third Wednesday of each month, we will continue the special collection for Polio Plus. Our club Polio Plus goal for 2020-2021 is $2,500.
On other Wednesdays of the month—funds will be deposited in the club's budget. Thanks to Lisa Salmons and Michelle Colvin for handling the "square."
Credit/Debit Card
Our Rotary Club will process a Credit/Debit cards for payments to the Duck. Normally, there is a 2-3% processing fee for credit/debit card payments. When making a brag etc. tell Lisa and Michelle the amount you are donating to the Duck and you will be invoiced for the amount. Thanks to the initiative and follow through of Kathie Byers. First Federal provided a $300 grant to cover processing fees for the current Rotary year.
Personal Check
If you wish to pay by check, send your donation to:
~ Rotary Club of Newberg, P.O. Box 703, Newberg, Oregon. 97132 ~
On the check's memo line—write "Duck".
Dear Rotarians and Friends of Rotary, per Shannon Knight: We wanted to share with you a note from Judy Robinson thanking her Rotary family for presenting her for the award of "Service Above Self Award". Judy was so pleased with the award presented during our Installation Celebration. Be sure to check your e-mails for Judy's THANK YOU CARD to the Club!
~ Today's Program ~

Linda Sandberg presented on Leadership Chehalem Valley. Dennis Lewis and Brandy Penner also shared their personal experience and involvement with the leadership program.
Not only did Linda discover Camp Tilikum through the Leadership Chehalem Valley program, she also was able follow her passion at Tilikum. Linda has been involved at Tilikum as a volunteer, board member and later, one of their corporate Challenge Course Facilitators. For the past several years she has been the lead facilitator for a number of regional Chamber Leadership events that come to Tilikum for their kick off day including Lake Oswego, McMinnville and Hillsboro. Linda says, "Facilitating on the Challenge Course for Leadership Chehalem Valley is truly the highlight of my year."
Leadership Chehalem Valley is a two year program. The first year kicks off with a Leadership assessment and a team-building dinner that helps to create connect between participants quickly and efficiently and sets the tone for an enjoyable year of leadership development and community networking. Each monthly meeting features a particular topic or theme.
October's meeting is Local Government Day. Linda said learning about city government was "eye opening."
They have an Education Day. They have visited PCC; and they always visit one of the schools within the Newberg School District. The particular school visited varies from year to year. Linda says that the site visits are "planned by the previous year's cohort."
There is a Health And Human Services Day. Linda's cohort was the first group to visit the new hospital building when it was built.
On the Business and Industry Day, they visit local business such as ADEC, A.R.E. Manufacturing, or the Allison. Participants get to see the back house operations. Linda has a degree in business and "found back of house very interesting. You get to see the good, the bad, and the ugly, of a business."
State Government Day is a visit to the State's Capitol. Shannon Buckmaster and Brandy Penner did a great job facilitating a field trip to the capitol and making sure they met interesting people and learned pertinent information about our State Government. Linda's group visited the Oregon Park's Department and heard a presentation from an agent of the Oregon Lottery. Oregon's lottery is both a public trust and a market-driven business. Lottery dollars fund education, economic growth, state parks, natural habitats, veteran services, and Outdoor School. Dollars are also allocated to gambling addiction treatment and awareness throughout the state. (www.oregonlottery.org)
The History and Tourism focus will find you at a vineyard, or Champoeg State Park and other historical sites. There's also a Natural Resources Day and you may learn about clean water or other natural resources vital to Chehalem Valley. Linda's favorite day is Community Service Day.
Each day begins with two hours of leadership training. Gary Stewart and _????_ built the curriculum for the leadership training.
The first year Leadership Chehalem Valley is leadership training and field trips. Year two cohorts "become the leadership and steering committee with a view to improving the program." (chehalemvalley.org/leadership-newberg) There is a new feature to Leadership Chehalem Valley. In an effort to keep Year Two participants engaged and active, members will work together on a community service project and it will involve Year One participants as well.
Key features and benefits of Leadership Chehalem Valley: Experiential learning, develop community understanding, and expand your networking sources. Linda says you meet a lot of interesting, intelligent, experienced, and well connected business leaders.
Dennis Lewis of Lewis Audio shared that he was part of the first graduating class from Leadership Chehalem Valley in 1990. Dennis is also an Early Bird Rotarian and a past Chamber president. He says that LCV "works to encourage participants to understand community and take an active role in shaping our future."
Dennis is going on 40 years as a business owner in the Newberg community. He has seen a lot of changes over the years. He commented that he created strong and lasting friendships with many of his cohort members and they are still friends today. Every sales representative and manager at Lewis Audio must go through the LCV program. He believes it's a great way to inspire connection with the greater community.
Brandy Penner is currently a Year Two participant and she helped to organize State Government Day. She gave thanks to Shannon Buckmaster and Linda Sandberg for helping to direct her to great resources in order to organize the day. Brandy also shared that she was introduced to the idea of participating in LCV through the wife of fellow Rotarian, Dan Kueler. Brandy said her experience with LCV was above and beyond her greatest expectations. She was impressed with how diverse the group was. After taking the leadership assessment, Brandy learned that the majority of the members in her group were introverts…
~ One of many LOCAL activities supported by the Newberg Noon Rotary Club…. ~
…Basketball camp at GFU…..
And more…..
INTERACT…..the locally-sponsored club at NHS is a very active group! They are not only very busy, but VISIBLE in the community….and beyond…internationally. ROTORACT…..not yet established locally, b
ut very active internationally.
Brandy Penner's report: The 2019-20 Newberg High School Interact Club was one to remember! Early in the year the students enthusiastically supported allocating funds to support two high school students in Kenya. Because of the Club's support, two students were able to continue their education and will undoubtedly be forever changed. It was powerful to see high school students supporting peers around the world in their mutual quest for education. On a local level, the Club spent time and funds on establishing raised beds to add to Providence Newberg Medical Center's wellness garden. Students planned and implemented the addition of the boxes, which include both edible annuals and perennials. With the onset of quarantine, Interact Advisor Denise Bacon took the meetings virtually. She increased student contact from every other week to every week. Not only did Denise engage students each week, but she also strived to have lunches delivered to each student! Because of Deinse and Judy's commitment to student engagement and health, the NHS Interact Club is thriving. The class of 2020 included a large portion of the club, so next year's goal will certainly be on recruitment and continued engagement. Thank you Denise and Judy for your time and efforts at creating Newberg's next generation of leaders!
If you would like to see today's ZOOM meeting on "the CLOUD"….here is how to get there, courtesy of Mike Caruso:
Topic: Newberg Rotary Zoom Meeting
Date: Jul 15, 2020 11:44 AM Pacific Time (US and Canada)
Share recording with viewers:
https://us02web.zoom.us/rec/share/248lIrjpxkRJW6PN80WYBIo7Bp_YT6a81CMaq6YIyxv4RU8opVVU-2stSZ8VYuGN Password: 7m$.#4?S
~ Next Week's Program ~

Junior Orchestra of Yamhill County
Danielle Howard, Teacher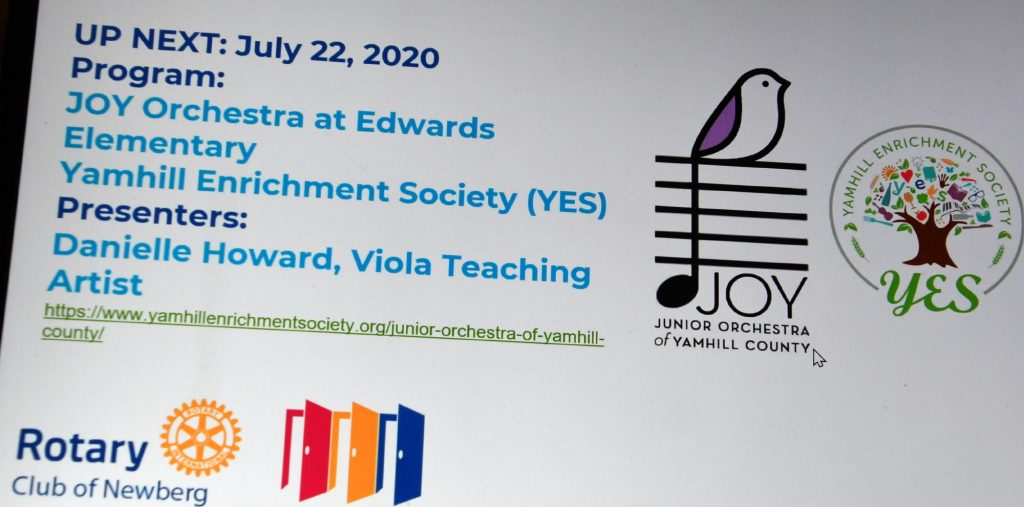 ~ Program for ZOOM meeting July 22, 2020 ~
Respectfully submitted, Rick Kaufman, Newsletter Editor
~ WISDOM ~
~ "The earth laughs in flowers." ~
~ HUMOR ~
~ "I'm so busy I don't know whether I found a rope or lost my horse!" ~
~ "I'm more confused than a chameleon in a bag of Skittles! " ~
Q: What did PEANUTS cartoonist, Charles Schultz, originally want to call SNOOPY?
~ [*] July 15, 2020, Duck Donations for Polio Plus ~

| | | |
| --- | --- | --- |
| Name | Amount | Why |
| Kathie | $50 | For the months we didn't donate to the Duck. |
| Lisa | $50 | I'm going to follow Kathie's lead |
| Mike C. | $50 | Our Polio Plus goal is $2500. If we raise $208.33 per Rotary Club meeting, we will meet our goal by the end of the year. |
| Om | $3 | Welcome to Shannon –our new Rotary Club President. And in recognition of the three doors of opportunities on this year's Rotary banner. |
| Judy | $30 | I ruined the foot pedal on my sewing machine. It was looking like $120 to get it repaired. My husband found parts and saved $100 so I am donating to the Duck. |
| Dan | $50 | I am following the lead of my mentor of The Rotary Foundation, Mike Caruso. |
| Denise | $100 | In celebration of another successful Interact year. Our students came through this challenging COVID time with "grace". |
| Karen | | My daughter graduated from NHS this year. She was so excited last week to receive a letter from the Rotary Foundation that she had received a Rotary Scholarship. Karen's daughter will attend PCC and study Business. |
| Paula | $101.50 | Our family leaves for a week at the coast. We will stay in the house our mother rented for our family over the years. This donation is in honor and memory of our mother and is equivalent to her age. |
| Linda S. | | When my daughter graduated, she received a Rotary Scholarship. Your scholarships have touched so many lives! |
| Joe | $50 | Congratulations to Brandy on her re-election as Chair of the Newberg School District Board of Directors. |
| Auggie | $29 | Kudos to Kathie and Lisa for putting together this virtual square. This $29 donation is a reflection of today's attendance. |