~ Newberg Noon Rotary Club Newsletter for Wednesday, July 8, 2020 ~

~ Rotary Club of Newberg Zoom Meeting ~

~ Call to Order ~
~ President Shannon Buckmaster welcomed Rotarians and Friends of Rotary to the Zoom meeting at 12:03 p.m. Wednesday, July 8, 2020. ~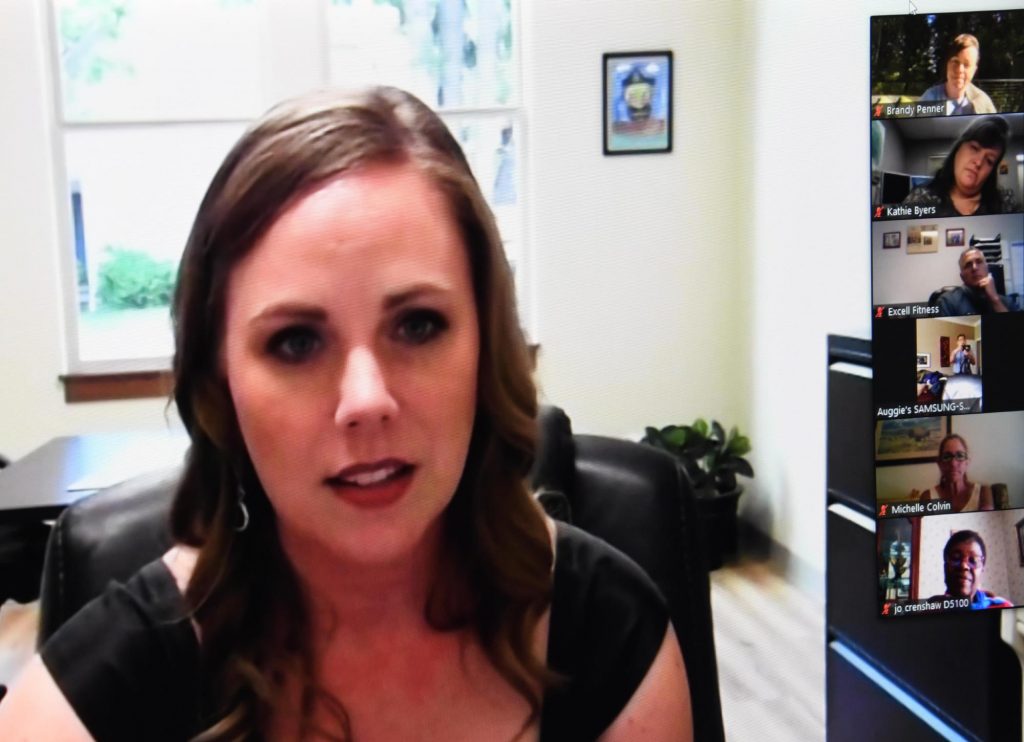 ~ Shannon's First Meeting "guidelines….note the DUCK…~
~ Rotarians and Friends of Rotary ~
Zoom meeting participants: Mike C., Paula, Shannon B., Dan, Laura, Kathie, Todd, Ralph, Matt, Michelle, Tony, Michael P., Lisa, Lynn, Geoff, Jeff, Shannon K., Karen, Sean, Denise, Julie, Jim, Joe, Paul, Corey, Auggie, Stan, Walter, and Dale.
~ Announcements ~

The Rotary Club of Newberg Board Meeting is Thursday, July 9, 2020 from 7:30 – 9:00 a.m. Incoming officers and/or club directors were emailed the meeting zoom link and agenda. Following Thursday's Board meeting, the club will launch a payment process for the Duck using the Square.
~ Guests ~

Larry Strober, Rotary Club of McMinnville Sunrise
Casey Kulla, Yamhill County Commissioner and today's Speaker
~ Flag Salute ~
Shannon lead participants in the flag salute.
~ Rotary Moments ~
Geoff: Thanks to Jim M. who stepped up to help the mural project with needed equipment. Due to the COVID delay, art students will paint the mural on the Library Annex between July 12-17.
Ralph: The Habitat for Humanity Restore is open Fridays and Saturdays. Masks are mandatory. Disinfectant and wipes are available for shoppers. Restore accepts donations by appointment. Ralph and Habitat for Humanity volunteers are helping North Valley Friends—and Veritas with affordable housing on their site. Habitat has a permit pending for the build of a low-cost home east of River Street.
Sean: Thank you Kathie B. and First Federal for the grant program.
Shannon B. and her daughter met Dan, his wife Lydia and children Jackson and Isabelle while on a neighborhood walk.
Jim: reported the Government shipped his Coast Guard son, Taylor, to the Arctic. Jim will encourage Taylor to take pictures and be a Rotary program in the future.
Shannon B.: The Chehalem Valley Chamber of Commerce has several hundred N-95 masks available at their location at 112 N. Garfield Street. Call (503) 538-2014 between 9:00 a.m. – 5:00 p.m. M-F.
Laura: in watching the Rotary International Convention via Zoom Laura suggests as we are having Zoom club meetings we can invite anyone from around the world to join us for a program.
~ Today's Program: A Yamhill County Update by Casey Kulla, Yamhill County Commissioner ~

Occupation: Farmer/owner, Oakhill Organics, 2006 – present
Occupational Background: Farm intern; Chemistry lab instructor; Plumber and plumber's assistant; Biochemistry researcher; Construction worker
Educational Background: Western Washington University, Forest ecology, Master of Science; Western Washington University, Biochemistry, Bachelor of Science; Taft High School, High School Diploma
Prior Governmental Experience: Yamhill County Water Taskforce member
Family & background: Fifth-generation Oregonian. Raised in Lincoln City. Married with two school-aged children.
~ Purpose of Today's Discussion ~

The state of the Yamhill County's response to COVID and how that relates to systemic racism and what our future might look like.
We are seeing increases in cases of COVID in Yamhill County. Kulla says, he is an optimistic person. His focus is to remain calm and help Yamhill communities look at what is needed for the future and how to keep COVID under control while maintaining an open cultural life.
Kulla hosts a Leadership Roundtable each week that includes: superintendents, mayors, leaders of business organizations, representatives of congressional delegations, commissioners etc. Kulla's hope is that these roundtables will help Yamhill County present a unified voice from leadership even though that unity sometimes requires "pushing and pulling." As these meetings are recorded, community members get an opportunity to see what normally happens behind closed doors.
~ Maintaining an Open Economic and Cultural Life. ~

Kulla is doing the following:
Working to help people get their unemployment claims, get business what they need—advocate at federal and state level.
Making sure our county has stability. We are in the chronic long phase of the virus. We need to support our employees.
Provide personal protective equipment and facemasks—manufacturers can list the equipment they are making and people can go online and buy it. Citizens can also access PPE by clicking on this link: emergencymanagement@co.yamhill.or.us
~ What would it take to reopen schools? ~

The public school system is one of the structures that underpins our society—I'm committed to working with school districts and the state on this issue.
What would it take and what would it look like to fully reopen schools in the safest way possible for all involved. It would take an estimated $200 billion to fully reopen schools in the fall. Imagination is needed to make it happen. We need funds for broadband—high speed internet to connect families to education in rural and remote areas
Parents need better access to childcare. The Yamhill Early Learning Hub provides resources and guidance to childcare providers regarding COVID safety.
~ It's absurd that public health decisions that affect people like you
are being made by people like me. ~

We need federal leadership on wearing masks. We need to provide messaging and funding. We need the state to provide the messaging. A lack of federal leadership causes a diversity of opinions and a big difference in county by county case counts. The impacts of coronavirus decisions leads to systemic racism—Latinx employees are more severely impacted by COVID. We need to: expand testing for immigrants; train law enforcement; and, build a bench of Latinx in elected positions who can speak about the issues and challenges of being a person of color in the Yamhill Community.
We need to increase Spanish language translation. We need to have things in the language that people speak and materials in their language. Yamhill County was not getting the message out to Spanish speaking communities. We need paper copies to those who are trusted in the community.
Economic Development: We need to support and uplift people of color who are business owners. This measure reduces systemic racism and positively impacts a community.
Long-term—how do we help people reduce disparity across communities? How do we best serve our marginalized immigrant community? Communities of color need equal access to outdoor recreation and pursuits. We need to build up our trail network. We have gems of parks but sometimes citizens can't get there without a car.
~ Next Week's Program: Leadership Chehalem Valley ~

Limited to 20 individuals per year, Leadership Chehalem Valley, is a two-year program that offers valuable leadership assessment and training, shows how communities are structured and how they work, and puts forth examples of community leadership and their stories. Linda Sanford, Brandy Penner and Dennis Lewis are the presenters.
~ Thank you, Commissioner Kulla! ~
Please check your e-mails for links [from Mike Caruso] to recordings of the Zoom meetings.
Respectfully submitted, Rick Kaufman, Newsletter Editor
~ "Your positive energy attracts positive circumstances." ~
~ Humor ~
~ Have you ever been…"Dog tired" ? ~
~ Trivia ~
~ The Appalachian Trail stretches 2,192 miles from Springer Mt., Georgia, to Mt. Katahdine, Maine. ~