SPECIAL ANNOUNCEMENT: CHANGE OF MEETING VENUE! Wednesday, February 19, 2020….NO NOON MEETING! MEETING SITE CHANGED TO "SOCIAL GOODS"….500 East First Street, NEWBERG. Time: 5.30-7.30 pm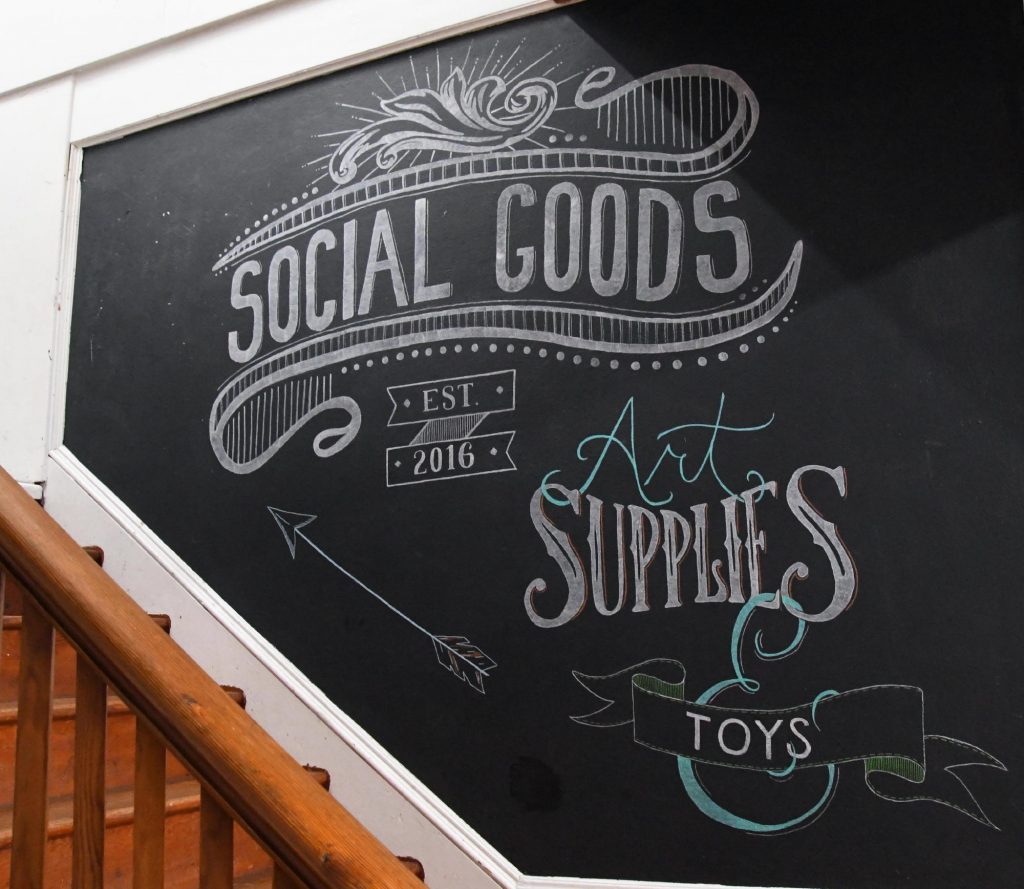 Food: Our Rotary Club will provide the food (No need to bring anything except yourselves, family and friends)
Drink: NO HOST bar–beer, wine, soft drinks, specialty drinks, water etc.
Our event is for Rotarians, Friends of Rotary and of course families and friends. Children and friends are welcome!
RSVP: https://signupschedule.com/noonrotary
We had a SPECIAL MEETING TREAT today! We met at Social Goods/Family Market, in downtown Newberg! Hosted by Owners Danny Sikkens and his wife, Robin.
Paula was our GREETER…and Prez. Corey opened the meeting. Since we had no flag…someone pointed out that there was one at City Hall across the street west….so we did our "pledge" facing that direction… imagining the flag we could not see! As this was NOT our usual meeting site, and the "format" of the proceedings was also "customized" to fit the locale….this newsletter will not follow the usual protocols, either! Fortunately, Auggie has provided an excellent panoply of photos that do a GREAT job of telling today's Rotary story. This was "serve yourself" from the house offerings… with the usual drinks, salad and freshly-baked PIZZA!
Special recognition for Rotarian of the Year was given to Geoff Gilmore for all he does for the community and Rotary.
Not having The DUCK….a cup was used instead…with today's collection only $21.25…
On to the presenters…."WHAT IF….?"….most entrepreneurial ventures start with that question up front…..Danny & Robin Sikkens' answer is "Social Goods"…"Welcome….We Are Social Goods Market….From the beginning, Social Goods set out to be a company that values charitable giving, community, families and amazing beer, wine and toys. We celebrate the pub feel with a safe environment for families. We're known as your living room away from your living room. Removing that bar stigma and replacing it with a place for community. History was built on community and great beers and wines. Come and see what Social Goods has to offer, you're welcome here!" We Rotarians got a good feel for that ambience when Newberg Noon Rotary met there on February 12. For even more insight into "Social Goods"…check out their website…..simply enter their business name as the Internet "search" word….and VOILA!…more background information including some great photos!
NEXT….and yet another example of "What if…?" at work…with fellow Rotarian [Newberg Early Birds] Kristen Stoller giving us an in-depth
…"What if we tackle this subject head on?"….look at the often "touchy" …and difficult to talk about….subject of SEXUAL HARASSMENT….and what we can do about it. Quoting a 1 – in – 10 societal rate of occurrence in our population, Kristen did an EXCELLENT job of presenting ways to recognize signs & symptoms…..as well as what to do…AND…what NOT to do….in coping… dealing…with this kind of behavior.
Thanks, Kristen!
REMINDER….it is now serious AUCTION ACTION time! If you do not have an assignment yet…get one! The Club needs EVERYONE on board for this… our primary fundraiser for the year…to be the success it needs to be to continue to adequately support the philanthropic projects/programs that rely on us. QUESTIONS? Shannon Buckmaster is 2020 Auction Chair.
ALSO….For an in-depth "look-see" at the Club's "Board Briefs"….go to the website…where you can additionally get a look forward at up-coming programs, and meeting locations.
See y'all at the Feb. 19 EVENING [!] Social at SOCIAL GOODS MARKET…to celebrate Valentine's Day!*
Respectfully submitted, Rick Kaufman, Newsletter Editor
*Yes…Valentine's Day…and a few snippets of humor to celebrate THAT! Note: A fellow Forest Grove Rotarian friend shared these with me…so he's to blame if you think these are just too "punny"! 😉
Girl: I can't be your Valentine for medical reasons. Boy: Really? Girl: Yeah, you make me sick!
Q: What did the stamp say to the envelope? A: I'm stuck on you!
Q: Why is lettuce the most loving vegetable? A: Because it's all heart.
If it is not Valentine's Day and you see a man in a flower shop, you can probably start up a conversation by asking, "What did you do?"
Q: What did one oar say to the other? A: Can I interest you in a little row-mance?
A Cub Scout found a frog that said, "Kiss me and I will become a beautiful princess." The boy studied the frog, then put it in his pocket. "Hey," the frog croaked, "how come you didn't kiss me?" "I'd rather have a talking frog than a princess any day!"
Q: What's the best part about Valentine's Day? A: The day after when all the chocolate goes on sale.
Two antennae met on a roof, fell in love and got married. Their wedding ceremony wasn't fancy. The reception, however, was excellent.
I can't wait for Valentine's Day because I get to make cupcakes for a special someone…..and that special someone is……me!
Q: What did one pickle say to the other? A: You mean a great dill to me.
Q: What do farmers give their wives on Valentine's Day? A: Hogs and Kisses!
Q: Why did the banana go out with the prune? A: Because it couldn't get a date.
Q: Why should you never breakup with a goalie? A: Because he's a keeper.
Boy: Do you have a date for Valentine's Day? Girl: Yes, February 14th.