RI President, Mark Maloney's, theme for 2019 – 2020: "ROTARY CONNECTS the WORLD!"
Paula Radich was GREETER today.
Club President Corey Z. opened the meeting at the Chehalem Community Center having Jim McMaster lead us in the Pledge.
Andrea Johnson, Judy Robinson's daughter, from the Tigard Rotary Club was our lone Visiting Rotarian today.
Geoff Gilmore sponsored the following art students from George Fox University as key participants in the Rotary Mural Project: Corie, Carla, Natasha, and Megan.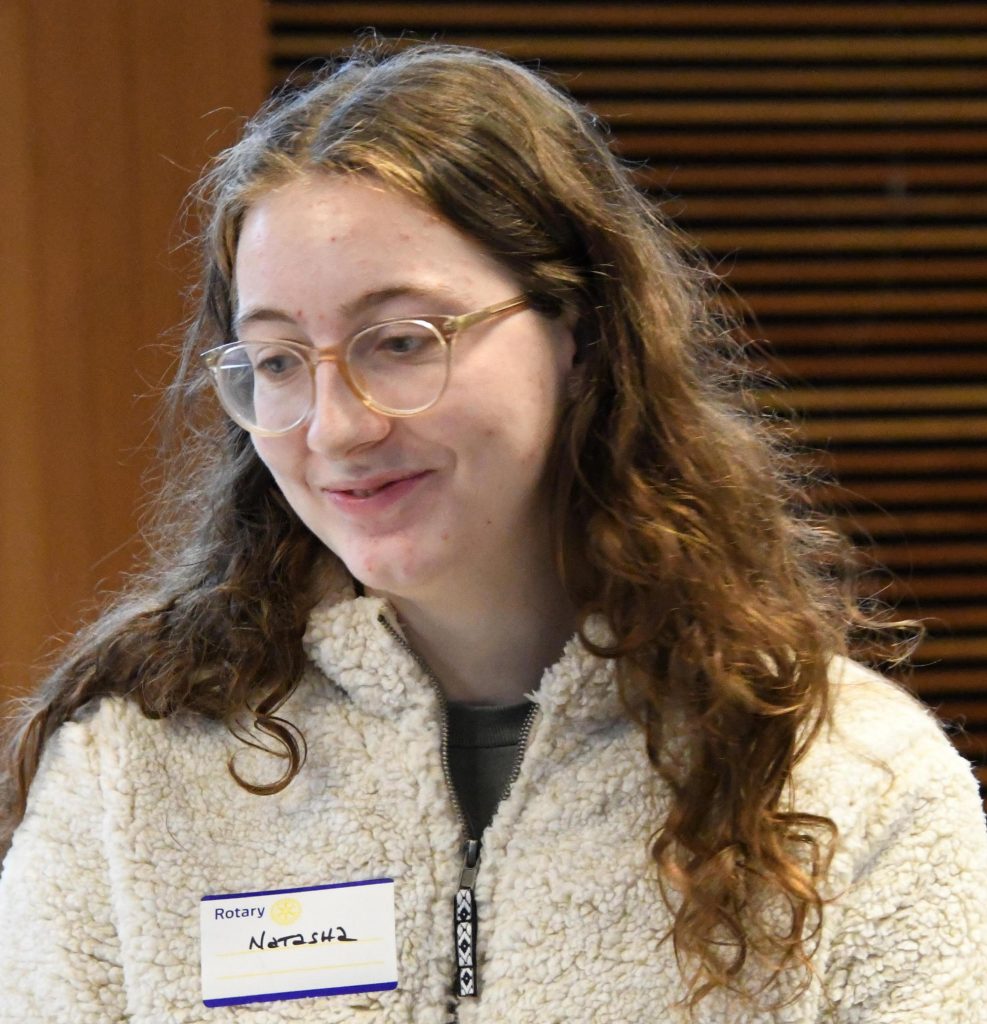 Skylar Walker was Rachel Huber 's guest.
Rotary Moment: Although Prez Corey did not have an official "Rotary Moment" contributor scheduled for today, Jim McMaster stepped up to praise the many local projects involving trails, playgrounds, etc…. reinforcing the ongoing legitimacy of Rotary in our community!
Non-Revenue-Generating Announcements:
Brandy P. – NBHS Interact is very active with lots of activities/projects going on! AND….Our family is growing by one this month! We are hosting the international exchange student from Thailand, Inarm. We are excited to open our home and share our culture!
Jim McM. – Don't forget, on Feb. 12, we meet at Social Goods–across from City Hall, courtesy of Vocational Services.
Krohn's Appliance's collecting of diapers for A Family Place resulted in over 23K diapers! That's really "cleaning up"!
Om S. – Feb 19th, Rotary meeting…"date night"…an evening "social" at Fred's home…plus…it is RYLA applications time, so check w/ Om, Lee or Aaron with any names of potential RYLA candidates.
Auggie – Per Auction, check w/ Laura re $$$ tickets/sponsorships, etc….he also provided a Rotary check to Love, Inc., as part of our support of their important missions.
Laura – Thankful for our Newberg Foundation ($300) for supporting home schooled Junior, Kyla Riddle's "Tie Blanket" project for homeless kids partnering with Michael Pollock's "Helping Hands". Also thankful for Paula Radich for helping with her grant writing skills with our (911) Dispatch Center Nepal Global Grant. Thank you, Paula!
DUCK TALES – Walter "played" the room with The Duck….but netted only $34 toward Polio Eradication this time…with your Editor getting some of the "tales" but not all…sometimes just the names…and he started off with this: "When Marge announced we were going to be neighbors and that property values were going down, I bet five people that it would not happen. There were no sales and property values actually went up as I joined other Rotarians. That was the money I won in the wager."
Paula then countered when she claimed that property values went up in Walter's former neighborhood when the news got out that he was moving! Ouch! 🙂
Kathie Byers – related to us in some detail about the psychological aspects of her being a "first responder" to a recent car accident. For greater detail, ask her personally!
Dale Welcome – Eldest son's wife is expecting their 3rd son…to be named "Walter"….hmmmm…..
Om S. – "Thai people are 'cool' relevant to Brandy having a Thai youth exchange student, and she was so excited about it."
Ray Hillman glad their son is returning from the Philipines.
Geoff Gilmore said "I will be honoring my Mother over the next few weeks by telling stories about her. Two weeks ago it was her pet one legged Chicken 'Roosti'. This week it was 'Smarty Pants' being valedictorian of 20 class and 600 hometown then going to Ohio State U. with 15,000 students (25 times bigger than hometown) – not so smarty after all!"
Kim Abrahams – "I wanted to add to Kathie's story because I have been the person on the other side of the accident. I was in a rollover and the people that stopped to help were like angels to us. They were the ones that helped me out of the car, wrapped us in blankets, and called the ambulance. We were in so much shock from the accident we didn't know what to do so their guidance helped us tremendously. Always stop when you see something and offer to help because you don't know what the other people are going through."
Judy Robinson proud to have her "fellow Rotarian" daughter join us today!
Yours Truly had been treated by my daughter, Kimberly, to the new movie, "Ford vs. Ferrari"…with historical focus on an automotive legend, the late Carroll Shelby…for this race car buff it was TERRIFIC!….Side bar: Carroll had been Senior Judge at the Forest Grove Rotary Concours d'Elegance years ago…and I got to meet him personally …and YES…he WAS quite a character!
Today's program presented by Love, Inc.'s Executive Director, Yvette Heyford…with an update on her organization…..
…..Founded in 1997 Love INC.'s Newberg chapter has been serving our community since 2004. It's core purpose, Transforming Communities by Mobilizing the Church, has become so much more over the years. Love INC now behaves more like a command center coordinating police, medical, food, and financial relief. Before Love INC people in need had to church hop seeking the help they needed. This is a poor model for those in need AND those wanting to help. When one lives in a state of perpetual crisis simply getting to those resources is just another barrier. When a church family has resources and desire to offer assistance, they have no choice but to find the right balance of stewardship and mercy. No giving soul likes having to ask someone presenting a need to prove it. But if they squander their resources on frivolous opportunities they won't be in a position to support truly dire needs. The other problem is that people want to help, but don't always know how. Love INC exists to fill this void with clearing house, relational, shelter, and "gap" ministries. The Clearing House function is the first line of support taking and screening calls, verifying need, and referring requests to best fit resources. Transformational (relational) is an offer of mentorship to those in chronic need with training and life skills. Kind of like the adage, "give a man a fish and feed him for a day, teach him how to fish and feed him for a lifetime." "Would you be willing to "get in the mud" with someone?" You will not only change another person, you will also change yourself. Twenty five mentors have already stepped up. Shelter speaks for itself. While not in the national charter, Newberg's chapter supports a women's shelter that began as an emergency shelter. The emergency shelter required 30 hosts for 30 nights every month. A daunting model to maintain. It has since be restructured as a transitional shelter with an end goal of independence and employment. "This year we graduated 18 homeless into their own places." It takes time to heal from abuse, neglect, and drugs. The house was donated by a local church with utilities and staffing covered by Love INC and its volunteers. Gap isn't an acronym. It is a ministry to fill the gap. Local Love INC helps churches that have a desire and the means to build ministries "fill in the gap". Local Gap ministries include: Bus Passes, Clothes Closets (3), Community dinners, Diapers, H.U.G.S.S. (Hats, Umbrellas, Gloves, Scarves, Socks), Kitchen Set-up, Linen Closet, Non-Food Pantry, Over the Counter Meds, Shear Joy Haircuts, Firewood Ministry. Love INC's most frequent request is money to pay bills. While they have no means of giving cash they can, a) direct someone to where they can get immediate help, and b) offer to lift the burden of necessities so that person's cash can be redirected to bills. Side Note: I learned a term new to me, generational and situational poverty. One woman called during the coldest day of the year. Their trailer's propane tanks were empty. They had scraped together enough to fill them, but the attendant was not allowed because the tanks were too old. A Love INC donor met that need and the couple survived the cold snap. "Feed the hungry, and help those in trouble. Then your light will shine out from the darkness, and the darkness around you will be as bright as noon." – Isaiah 58:10-11 …Leadership and Business Development Coach/Career Discovery Coach – "Impacting engagement & organizational success one outstanding leader at a time"…Thanks, Yvette!
Remember, Rotary's "Four Way Test" is a PROVEN successful way to interact with others and live one's life….AND…Think AUCTION ACTION!!!!
Respectfully submitted, Rick Kaufman, Newsletter Editor
…with a few snippets of humor/wisdom….
IF MY BODY IS EVER FOUND ON A JOGGING TRAIL JUST KNOW THAT I WAS MURDERED SOMEWHERE ELSE AND DUMPED THERE.*
RESPECT YOUR ELDERS. THEY GRADUATED FROM SCHOOL WITHOUT THE INTERNET.*
I'VE DECIDED I'M NOT OLD, I'M 45 — PLUS SHIPPING AND HANDLING.
BEHIND EVERY ANGRY WOMAN STANDS A MAN WHO HAS ABSOLUTELY NO IDEA WHAT HE DID WRONG.
IN MY DEFENSE I WAS LEFT UNSUPERVISED.
MY DECISION-MAKING SKILLS sometimes CLOSELY RESEMBLE THOSE OF A SQUIRREL WHEN CROSSING THE ROAD.*
SOME THINGS ARE JUST BETTER LEFT UNSAID — AND I USUALLY REALIZE IT RIGHT AFTER I SAY THEM.
CAMPING: WHERE YOU SPEND A SMALL FORTUNE TO LIVE LIKE A HOMELESS PERSON. *
and…finally….I THOUGHT GETTING OLD WOULD TAKE LONGER.