2019 – 2020 RI President Maloney's theme…..Rotary Connects the World:
….Do YOU have one of these shirts?  If not, why not?  If so….wear it to meetings!
Newberg Noon Rotary Club Newsletter for November 13, 2019
Becky A. was GREETER!
Club President Corey Z. opened the meeting, having Judy Robinson lead us in the PLEDGE.
Guests:  Paul Schubach [today's presenter] and his wife, Ginevra Blake.
Lisa Salmons' Rotary Moment focused on volunteering for something new even if it feels outside your comfort zone. Lisa and Michelle Colvin volunteered to deliver dictionaries to six 3rd grade classrooms. Since this was the first time delivering dictionaries they didn't know what to expect walking into each classroom. They called in advance and arranged a time to visit at each school, so it went very smoothly. They enjoyed seeing the students so happy to receive their own dictionary and sharing what Rotary is about and what Newberg Noon Rotary does for youth programs in our area.  Also…." *Special recognition should be given to Tony L for coordinating the dictionary program and to all the delivery volunteers. (Tony would have the names of the other volunteers. Brandi was one of the volunteers and I think Cory and one other person.)"
Announcements: Laura reminded us of the importance of attending…if at all possible….the Rotary International Convention in Hawaii for 2020…details available online at the RI website.
Gene Piros handled the DUCK, collecting $64.25: DUCK TALE contributors today included….Auggie [w/ "chuckles" about his daughter]; Kathie Byers [Her bank is having a charitable $$ drive from Nov. 25 – Dec 13.]; Walter [another "Rotary Moment"]; Judy R. [" I simply paid a penance for being gone 3 weeks on vacation. And although we thoroughly enjoyed our journey to parts of Italy and Greece we were happy to return to Newberg where graffiti is not considered a form of art and where we enjoy our own little community!]; Paula told of a "field trip" with her 101 year old Mom!; Tony ["Thanks!" to those who helped….and an update on the Dictionary Project]; Dr. Joe Morelock [with some different…albeit still BRIGHT….socks!]….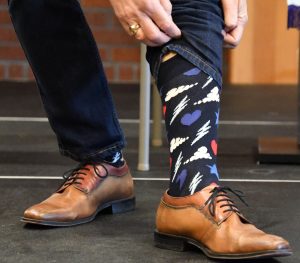 Dr. Stan [Ladies State Volleyball Champs GFU beat Lewis & Clark in state playoffs]; Yours Truly thanked Tony for Dictionary Project…which I did for about 8 years while Rotarian in Jacksonville, OR…and learned that South Medford High School senior Interactors still had…and used nearly daily …their dictionaries received from Rotary while in the third grade!]; Shannon Buckmaster could simply NOT let Dr. Joe's socks go unchallenged …showing off her own dazzling footwear w/ "unicorn" motif!  Gotta admit…her stylish boots are a lot better looking than his "high-mileage" shoes!

Did anyone of us know what a classic, once-priceless [before it got cut in half to use as a teaching tool!..and…YES…he shared THAT story, too!], Stradivarius [it IS signed inside!] violin looked like INSIDE!?  NOW WE DO…as master violin maker/repairer…and great/entertaining story-teller…Paul Schubach tells…and showed….us all about it in our Program today!  According to Paul, the classic violins' shapes, as we know/recognize them today, started in the 1500s…he then charmed us with demonstrations and stories…

…..
…….
....how to VERY CAREFULLY place the tone-tuning/tensioning "post" in that "no-longer-priceless" Stradivarius violin.  Paul Schubach is a local "gem"…a true artist…and world-class violin maker/craftsman…with amazing working skills…including those learned from violin-makers with family in Milano, Italy…Paul and his wife, Ginevra Blake, moved to Portland  in 1971…then settled in Newberg…and have a son here.  Paul's shop is across from F.I.S.H.  Actually very close to Auggie's clinic!
…Paul shared with us the intricasies/nuances of design, construction, wood choices [Spruce is the favorite/best "sound box" species…although other woods, such as some maples may be involved]…tuning…and other details associated with producing really good…high quality…correct-sounding violins…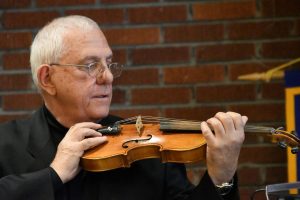 …..Paul invited anyone interested in what/how he does his "violin magic" to visit his shop…but to please call ahead.
Schuback Violin Shop, 110 South Elliott Road, Newberg, Oregon 97132, Please call or email for an appointment,  violin@schuback.com  503.916.4430
THANKS, PAUL!
REMINDER…NO MEETING on November 27!  HAPPY THANKSGIVING!
December 4th meeting will feature Tiger Manufacturing….Unique NHS Program worth knowing about!  Check the Club's website for all these details!
Let your life be significantly guided by…
Rotary's Four Way Test of the things we think say or do….
First – Is it the TRUTH?
Second – Is it FAIR to all concerned?
Third – -Will it BUILD GOODWILL and BETTER FRIENDSHIPS?
Fourth – Is it BENEFICIAL to all concerned?
How about a few snippets of HUMOR!?
~ Therapist:  "Your wife says you never buy her flowers.  Is that true?"  Him:  "To be honest, I never knew she sold flowers!"  🙂
~ Picked up a hitch-hiker.  Seemed like a nice guy. After a few miles he asked me if I wasn't afraid that he might be a serial killer.  I told him that the odds of two serial killers being in the same car were extremely unlikely.  😉
~ Me:  (Sobbing my heart out, eyes swollen, nose red)…"I can't see you any more…I am not going to let you hurt me again like this!"…Trainer:  "It was a sit-up….you did ONE sit-up!"  Hmmmm….