HAPPY NEW YEAR!!!
With an opening note from Secretary Paula: OUR January 15th Rotary Meeting is CANCELLED. Enjoy the snow! We will reschedule District Governor Diane Noriega's visit….but with a few words from our District Governor:
"Dear District 5100 members, I just wanted to alert you to this month's Rotarian Magazine. The Portland Club is highlighted in the Our Clubs section, pg. 55. Great article. Congratulations to the Portland Club! You bring honor to our District.
YIRS, DG Diane "
Starting the new [calendar] year off at our usual "home base", the Chehalem Cultural Center, we were treated to an entertaining Classification Talk by the new Librarian, Will Worthey….and we'll get to that soon enough*….
We were greeted/welcomed by none other than Mr. WELCOME himself… Dale Welcome….who also happens to be our Club's representative to the Eagle Valley Scouting District…
AND…Bon Appetit did it again! With another tasty lunch spread for our epicurean appetites!
Club President Corey Z. opened the meeting, having Shannon Knight lead us in the Pledge of Allegiance to our country, represented by our Flag…."Old Glory".
Our only guests today were Visiting Rotarians Marie Johnson from The Tigard Noon Rotary Club with an announcement, and Gary Stewart from Newberg Early Bird Rotary. [Editor's note: Missed a Rotary meeting? Try a "make-up" meeting somewhere…the world-wide list of clubs and their meeting locations/days/times is available through links on the RI website. I have maintained a near 200% attendance record for nearly 40 years, with countless meeting make-ups from Grenoble, France, to Rotorua, New Zealand, Matta Matta, Australia, and MANY other club visits in the U.S. Try it! You'll like it!]
Rotary Moments: Om & Todd…shared their feelings about the fantastic learning opportunities through the YOUTH training programs at Friendsview…with Om saying her daughter had really benefited from her time in training at Friendsview…helping her solidify some of her life's goals! And Todd was pleased that Friendsview was in a position to offer such training!
January birthdays: John Kerekanich [6th], Kim Abraham [11th], Leroy Benham [18th], Marge O'Connell [19th], Judy Robinson [27th], Rosa Olivares [30th].
Non-revenue announcements: Ballots of Directors on the tables – vote now! Though down in numbers a bit from past efforts, the "Diaper Drive" really cleaned up! Laura T. was happy to report that our Global Grant efforts are moving forward…we now have an official RI grant #! Walter Want said his favorite "napping couch" is available as they are downsizing in their move from the house to Friendsview. Auggie spoke on the planned trip to Guatemala. Tigard Noon Rotary's Marie Johnson let us know of her club's upcoming fundraiser on Wednesday night, January 29, 6:00 PM "A musical spoof of comic book crusaders, "Up and Away".….combines old fashioned stage magic with rapid-fire character changes and plot twists to sweep audiences off their feet!" The Broadway Rose Theatre Company is the site! Tickets available at https://tigardrotaryfoundation.org/upandawayrotary/ or follow the link to https://tigardrotary.org/ Broadway Rose New Stage Auditorium and Box Office, 12850 SW Grant Avenue, Tigard, Oregon
Celebrating their 100th Year Anniversary….The Rotary Club of Salem Dinner & Auction "Setting the Stage for Salem" is scheduled for Saturday, February 8, 2020 at the Salem Convention Center at 200 Commercial St. SE, in Salem ….building a "legacy gift to the community" with the new Salem Rotary Amphitheater. For details: The website is…… https://rotaryclubofsalem.ejoinme.org/tickets
Additionally, "With Justice For All", an interactive Martin Luther King, Jr. event at the CCC, January 20, 2020 at 6:00 PM. For our Club's "Board Briefs", upcoming meeting programs, and other community activities/events of possible interest to Rotarians, check our Club's website.
The DUCK….[your Editor did not get ALL the comments]…but Friend-of-Rotary Gene Piros collected DUCK TALE contributions totaling $135 toward Polio Plus/Eradication from several Rotarians: Connie….Michelle….Judy R……Laura's Duck Tale: "We now have an official RI Global Grant number" ….Becky…..Shannon B……Mike C……Mary/Tigard Noon Rotary regarding their "Up and Away" fundraiser….Ralph K…..Om/Polio Plus….Ann Dolan: "A big thank you to Dale Welcome for talking about his dancing experiences when the duck was passed around several weeks ago. It inspired me to take ballroom dancing lessons, which I've been wanting to do for years and now have been doing for the past two weeks for fun and exercise. Stay tuned, Dale and I may surprise you with a dance demonstration one of these weeks!" School Superintendent Joe Morelock gave us an update on the #s of pairs of "weird" socks he has….Auggie commented favorably on Paul J's honey…as well as…Auggie's Duck Tale: "Since 2006, there's been a core Team of Dentists consisting of OHSU Dental Students, over the years, who have gone on to become Dentists and a permanent part of our on-going Dental Team. We have had other OHSU Dental students and Dentists come and go. And within the core group of dental students, over the years, there have been five couples who have engaged in relationships. Five have married. One has separated/divorced. And two have started families yielding three children. All still gather as close friends. That's Rotary family! "……..Corey left his badge at home…paid "rent" on it….and Editor Rick thanked the club for being a great "extended family"!
*PROGRAM: Librarian Will Worthey entertained us with a unique way of combining his librarian's interpretation of "classification" with Rotary's definition of the word. His Power Point Presentation was a delight to watch!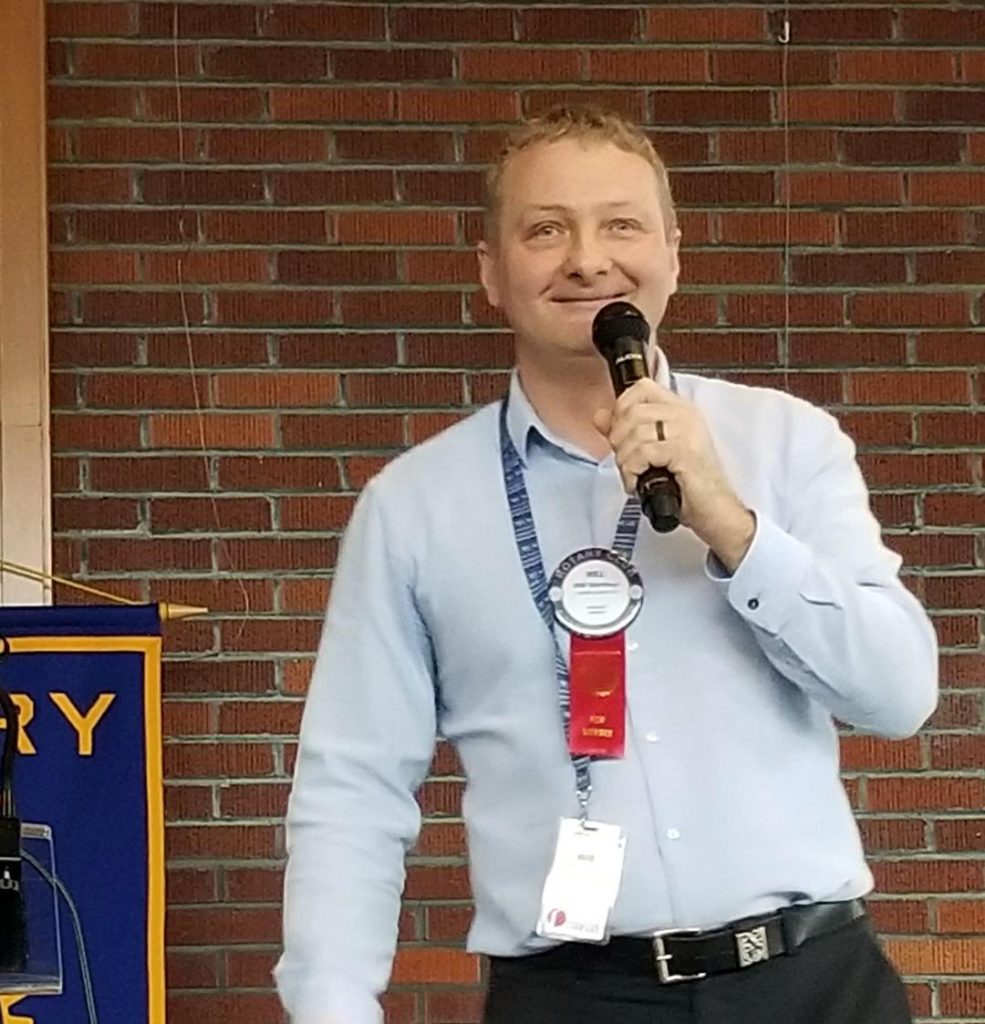 *How many of US can make the claim that we were university-educated in a Scottish University founded in 1450? That was just a tiny part of what Will regaled us with, as he is doing his own part in "…..Connecting the World!"! His visual-aid graphics were terrific….and he pretty much kept us on the edges of our seats in anticipation of just how next he was going to "connect and classify" his life's story to the "Heart & Soul" of libraries, the Dewey Decimal System. Of course he DID IT WITH APLOMB…mixed in with his own brand of humor! Born/raised in Dumbarton, Scotland, "famous for great shipbuilding and truly terrible scotch!" His education started at Dumbarton Academy…then on to Glasgow University [you guessed it…founded in 1450!] where his "librarian" education really got wings! Graduate studies in Library Science at Strathclyde University further cemented his librarian career objectives. He loves ancient & medieval history, and digs archaeology…both of which found him making holes in the ground around Europe during summers.. Except for a brief period of time doing military service, he has worked in libraries all his life. After immigrating to the U.S., and a stint in a library in Tennessee, he has held at least three library positions in W. Oregon prior to settling here in Newberg. Will has a "long-suffering" wife, Alyssa, a daughter, Luella ["Lulu"], a son, Eric, and two dogs…Josie and Petunia. The MUPPETS & science [Ed. What a combo!] seem to be among many of Will's interests. There is still some belief that his current avid participation in Dragon Boat Racing may have been triggered by a sighting of the Loch Ness Monster during his youth in Scotland! Will has already done great things with the Library, but has even more "Worthey" things planned! He had some interesting stats on the increasing usage of the Library's services, in spite of today's expanding access to the Internet for information and its available entertainment. Want to know more about Will? Sit with him at Rotary or visit him at the Library….guaranteed, he is not the least bit shy about sharing and/or telling stories! Thanks, Will!
Club Prez Corey was happy to relieve Will of his Red Ribbon!
Respectfully submitted, Rick Kaufman, Newsletter Editor
With additional "pearls"…one of wisdom…the others humorous….for your thoughts & chuckles …."You'll never know how strong you are until being strong is your only choice." "Frog parking only…all others will be toad.." "I want to grow my own food, but I can't find bacon seeds…" "I checked myself into the Hokey Pokey clinic and turned myself around…" "My wife said I never listen to her…or something like that.." "If your car is running, I am voting for it!"