~ Newberg Noon Rotary Club Newsletter ~

Rotary Club of Newberg, Zoom Meeting
Wednesday, December 2, 2020
~ Zoom Meeting Participants ~
Shannon B, Mike, Dan, Geoff, Todd, Lynn, Ralph, Gene, Brandy, Michelle, Amber, Shannon K, Dale, Auggie, Laura, Joe, Denise, Paul, Christy, Lisa, Walter, Julie, Jim, Doug, Paula, Tony, Jim.
~ Call to Order ~
President Shannon Buckmaster welcomed Rotarians and Friends of Rotary to the Zoom meeting at 12:00 p.m. Wednesday, December 2, 2020. The Rotarians split out into breakout groups to start the meeting.
~ Flag Salute ~
Todd lead participants in the Pledge of Allegiance.
~ 4 Way Test ~
Dan lead participants in the recital of the 4 Way Test:
Rotary's Four Way Test of the things we think, say and do:
#1 – Is it the TRUTH?
#2 – Is it FAIR to all concerned?
#3 – Will it BUILD GOODWILL and BETTER FRIENDSHIPS?
#4 – Is it BENEFICIAL to all concerned?
~ Announcements ~

Thank you notes from recipients of our recent grant
Paul shared that a few months ago, the District contacted us that we had some grant money available. We put in an application for a grant whereby we partnered with Love Inc to use the money on a food program that helps people in need of food. The money went towards gift cards at Grocery Outlet that would be awarded to people who completed Love Inc's "Life Healing Choices" or their "Money Management" class as an incentive and congratulations for completion of the course. They received a $25 gift card halfway through the course and another $25 gift card after completing the program. The club received thank you notes from several recipients. Shout out to Sean Elliot, the owner of Grocery Outlet and Love Inc for this partnership and all of the other community service he does for the community!
Early Birds Christmas Auction
Shelley Kolb shared that the Early Birds Rotary Club of Newberg is having their Virtual Christmas Auction today through December 10. The auction is now live. She shared a few items, such as a fishing trip, a mexican cuisine dinner party, a hot air balloon ride, a champagne brunch for 8, a 2 night staycation in Dundee, dinner on the greens for 8, a paddle boarding adventure, a night at the Allison, a wine tasting at a new winery for 6, an airplane ride, and a whole lot of gift certificates for business in Sherwood. Go to their website for more details. There is also a paddle raise. There is one more week to participate, bid, and donate.
~ Guests ~
Shelley Kolb, Visiting Rotarian from the Newberg Early Birds Club
~ The Rotary Duck ~
Auggie: Pointed out that the Beavers beat the Ducks this last weekend, and that means that all Beaver fans need to ante up and pay happy dollars toward the duck. Also celebrated the Huskies winning by 24 against Utah!
Laura: Thanked Mike Caruso and Aaron Thomson (from the Albina Club). They are collecting from 26 different Rotary Clubs and they have almost completed this huge effort. She also thanked Paul and Paula for work on fundraising for the 911 EMS system international Grant project in Napal. They have $11,000 to date and need to get to $35,000.
Mike: Gave Kudos to Laura for her work on global grants. He also mentioned that last night he received an application for a Peace Builder Club from the Rotary Club of Wilsonville. There are now 37 peace builder clubs in the District.
Ralph: Thanked Love Inc and YCAP for assisting a homeless individual he has been helping to find housing. Ralph also has a brag whereby he has has not consumed any energy from the grid thanks to his net zero solar panel system!
Paula: Paula got a text from her niece with a video of her nieces son walking for the first time, which also happened to coincide with what would have been her late mother's 102nd birthday.
Shannon: Happy Birthday to Brandy!
Auggie: Auggie continued his presentation of each of the 9 Rotary Quilt Squares, which he used as his virtual background.
Total Collected today for the Duck: $114
~ Today's Program: Amber Hansen-Moore: Classification Talk ~
Amber is originally from the very rural state of Nebraska, and a fan of the Nebraska CornHuskers Football team, as is most people in the state. She pointed out that the official tourism logo reads "Nebraska: honestly it's not for everyone", as it receives the least tourism of all of the 50 United States. She was born and raised in Norfolk, Nebraska, a town very similar to Newberg, which is in part why she has felt very at home here in Newberg. She left Norfolk after high school to attend Wayne State College to study political science and public administration as she has always been interested in public administration, community service and social issues. Additionally, she spent time working in politics working in senate campaigns, but realized quickly that this work was not for her, and that public policy and community service was where her heart was.
After College, she found her interest in improving peoples lives led her towards working in Non-Profits. She found her calling working for the Community Action Partnership of Nebraska and moved to Lincoln to work for them beginning in 2010. She held many roles there starting at the bottom and quickly working her way up until she was the Executive Director of the organization. There are over 1,000 Community Action Agencies throughout the US who are all independent non-profits, but work together and with similar principles. Her Partnership included 9 of the Nebraskan agencies. She worked there for 6 and a half years and became a member of the Lincoln Rotary Club #14, which is actually the 14th club ever established throughout the world. It had over 100 members and she appreciated that Club but mentioned that she feels more comfortable here in our Newberg Noon Club.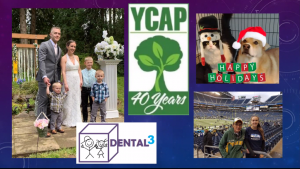 In 2017 she met her now husband, Tommy (seen in the leftmost photo along with her nephews), and together they made the move away from Nebraska to Oregon where she became the executive director for Dental 3, a nonprofit that serves the Portland Metro Area providing preventive dental care for children in low income elementary and middle schools. She realized that her passion was in helping people struggling with poverty, and in July became the Youth Outreach Director for YCAP, here in Yamhill County.
YCAP Youth Outreach:
YCAP youth outreach has a Safe Shelter, the only runaway youth program in the county, which provides short-term and long-term shelter. Services include providing safe and stable housing, case management, life skills development, and family support services and mediation. They also have a Drop-in Center, which started 18-20 years ago, that provides services to youths 11-21, designed to offer support and preventative services that promote good decision making, personal responsibility, and healthy lifestyles. The services of the Drop in center includes academic support, jobs development, prevention and peer support activities, social support and recreational activities, and mental health services. This place is an amazing place for kids to be able to come and have fun, find a quiet place to study and learn, or even just to get out of the house and into a fun and safe place in the community.
Amber and her husband Tommy have an 18 lb Cat named Captain and a dog, Milo. Her dad (pictured bottom right) is a huge Packers fan (Editors note: GO PACKERS!) and she is a big Seahawks. She hopes one day to be able to go to her first NFL game with her dad when the Packers play the Seahawks. She has been very happy to get back into Rotary and looks forward to getting to know the community, building connections and friendships, and serving the community.
Additional notes about YCAP Youth Outreach:
The primary goal of the shelter programs is to reunite kids with their families or find them safe living arrangements, utilizing different tools and services as well as working with other agencies and foster homes.
They do a lot of valuable work with regards to family mediation to resolve issues within families.
Rotary clubs helped fund the development and opening Drop in Center back when it began 18 to 20 years ago.
They are funded by a variety of generous partners including 2 Federal Grants, a generous grant from the Austin Family Foundation, donations from many private parties, and other small grants they apply for.
They are certified by DHS and are hoping to better partner with DHS in different ways to improve their services.
She is also improving her partnership with CASA and other groups doing similar work. Fun Fact: Laura's husband and Shannon Buckmaster volunteer for CASA.
~ Next Week's Program: Updates from the CCC by Sean Andres ~
Check your e-mails for Mike Caruso's Zoom meeting access information.
~ Joke of the Day ~
Did you hear about the man who invented the Knock Knock Joke?
He won the No-bell prize.
~ Happy Quotes! ~
"I would much prefer to achieve goodness than greatness."
– Dan Keuler
~ Published 12/5/2020: Dan Keuler, Newsletter Editor ~