Newberg Noon Rotary Club Newsletter for August 14, 2019
Greeter was Becky Ankeny.
Back at Noon Rotary's "home base"…the Chehalem Cultural Center…Club President Corey Zeilsdorf opened the meeting having new Rotarian Michael Sipes…now sans his "Rotarian Newbie" Red Ribbon….lead us in the Pledge.
Guests: Will Worthey, new City Librarian, host: Angel Aguilar; Bayo Ware, City of Newberg*, host: Om S. & Lynn Montoya-Quinn; Craig Koozer, son of Ralph Koozer.
  Jan Winder receives "Service Above Self" Award from President Corey!   Corey recognized Jan Winder for her outstanding years of service. Thank you Jan for being an terrific example of "Service Above Self"!
…Colorful monthly birthdays' celebration decor…how was the cake!?…..
…Our own local "Wonder Woman", Shannon Buckmaster, has agreed to take on the role of 2020 Auction Chair!  Thank you Shannon for sharing your talents with the club. We're all in this together and we will all help you make the Annual Auction another great success.
Newberg Noon Rotary Foundation's Chair, Spike Summer, gave an update on the NNR Foundation Board positions. Voting will take place soon.
* Members are invited to join "A NEWberg Bash" from 6-8 p.m., Thursday, Aug. 15 at Memorial Park. Celebrate completing the Vision with free burger and ice-cream and music.
All are welcome to stop by Julie and Walter's downsizing sale on Aug. 16-17. 1216 East Edgewood, Newberg. With their very eclectic tastes, who knows what you will find!
Judy Robertson gave kudos to Ray Hillman for his outstanding job "sanitizing" everything so well while volunteering at the Senior Center!  Ray also handled the DUCK today….collecting $48.50.

Auggie Gonzales gave a salute and thanks to all the World War II veterans…and there are very few of them still alive!
Dale Welcome….."My Rotary moment was meeting another Rotarian while teaching a global leadership seminar for World Vision.  With leaders from around the world, I wore my Newberg Rotary polo shirt one day to learn one of the participants was from the Bethesda, MD, Rotary club.  Even more, he was their current president.  You never know when you may meet another Rotarian, so wear your Newberg Rotary polo shirt and have a Rotary Moment!"
All Newberg Noon Rotarians are proud to participate with the Early Bird Club in the International Youth Exchange program.  FACTOID:  Did you know that this fantastic world-wide program started in the early 1950's in District 510 [now 5100] with a suggestion…and a comprehensive written plan…to District Officers …from a Forest Grove Rotarian who then went on to become a District Governor?  Willamette Univ. grad, Ray Miller, owned/managed a hardware store that…over time…"morphed" into the HUGE…dark green…Ace Hardware store in Forest Grove located on the SE corner of the intersection of Highway 47 and Highway 8 [Pacific Avenue].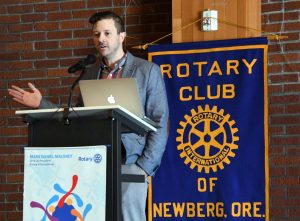 …New Rotarian, Sean Andries, gives his Classification Talk….a few details here gleaned from his Power Point Presentation:  Sean shared his amazing career journey, flair for theater, love for his family, and connection to the community as the current/new Executive Director of the Chehalem Cultural Center.  FELLOWSHIP is a "cornerstone" of Rotary.  Much like an "extended family".  For a little "Sean history":…He moved to Medford, Oregon at age 10…was involved in Britt and Oregon Shakespearean Festivals…among others.  "Waited a lot of tables…"  and then subsequent educational & career moves took him to Eugene [OR], Louisville [KY], NYC, and back to Oregon.  Always involved one way or another with the theatre and entertainment, Sean has a degree in "Theatre and Arts Management". He studied physical theatre and ensemble creation…..and discovered a passion for community-based art….has created dozens of original plays….and…. "Waited a lot of tables!"   Sean is the middle of three brothers …married to Kate in 2012….with a beautiful son Henryk…and a Dachshund named Lando.  Sean then elaborated on plans for the Community Center…to expand beyond the terrific programs they are already doing!  Like adding a Culinary Enrichment Center…finishing restoration of Central School…and MORE!  For even more information on Sean and the Chelahem Cultural Center, sit with Sean at a meeting and chat with him….as he is now part of the "Rotary extended family" !

….."Artist, Administrator, Dad…"…that's certainly enough to keep anyone busy!
…After giving his presentation, New Rotarian Sean gets his Red Ribbon removed by Prez Corey….however….
….either Sean was not happy about losing his Red Ribbon…OR…Corey wasn't being "gentle"!  OR…and this is more likely the case…they were both "hamming it up" for the camera and their "captive" Rotary audience!
Upcoming speakers/presenters: Aug. 21, Brandy Penner; Aug. 28, Kathie Byers; Sept. 4, Connie Rice.  For more program details, check the Club's website.
As President Corey closed the meeting…keep in mind Rotary's Four Way Test of the things we think, say or do:
First – Is it the TRUTH?
Second – Is it FAIR to all concerned?
Third – Will it BUILD GOODWILL and BETTER FRIENDSHIPS?
Fourth – Is it BENEFICIAL to all concerned?
Part of RI President Maloney's Sept. Rotarian Magazine message:  "We must foster a culture where Rotary does not compete with family, but compliments it.  We should never expect our members to choose between the two.  That means being realistic in our expectations, considerate in our scheduling, and welcoming of children at Rotary events on every level."  Which is reflective of President Maloney's "theme" for 2019 – 2020…..
[A "Special Thanks" to the Newsletter TEAM for providing the material allowing creation of this tome!  I couldn't do it without you!]
Think about it….."….be the kind of great person your dog thinks you are…!"   [source: anonymous…]
And….for GRINS…… CAMPING: WHERE YOU SPEND A SMALL FORTUNE TO LIVE LIKE A HOMELESS PERSON.