The Four-Way Test of Rotary
of the things we think, say and do….
First – Is it the TRUTH?
Second – Is it FAIR to all concerned?
Third – Will it BUILD GOODWILL and BETTER FRIENDSHIPS?
Fourth – Is it BENEFICIAL to all concerned?
ZOOM is amazing…allowing us to "meet" this way during "sequestration" conditions. A BIG THANKS! to Mike Caruso, for the use of his Zoom account! And thanks also to Kathie Byers…for the meeting's notes …and Auggie's usual great job of providing relevant photos!
Rotary Notes [Thanks to Kathie Byers!], May 27th, 2020
Pledge Of Allegiance
led by Walter Want.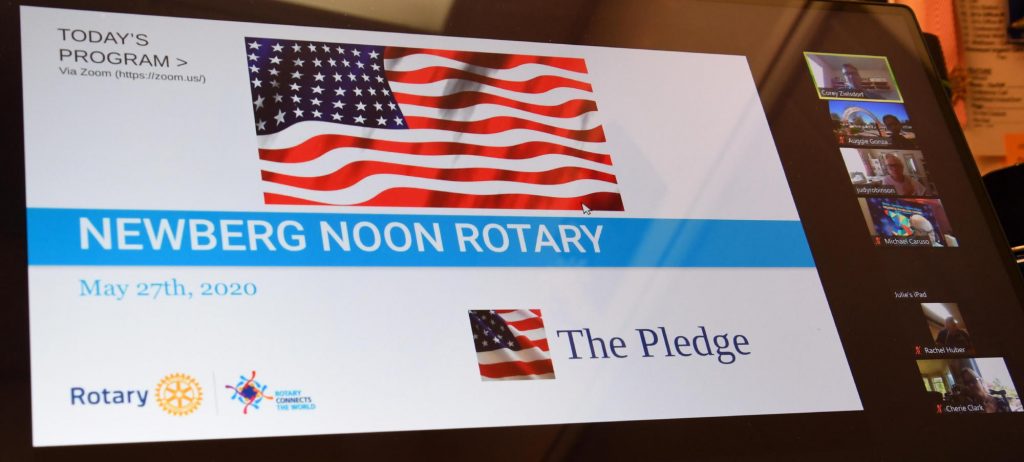 Guests:
Cherie Clark
Visiting Rotarians:
None
Rotary Moment:
Laura T. has been working on "Dispatch 911" grant with Patrick and Paula. Laura got word that Paula's mom took a turn for the worse. Sadly, Paula's mom passed away just a couple days later on Sunday. "Paula is a great Rotarian and so eloquent." When Laura reached out to Judy, Judy suggested flowers for the funeral. The Memorial service is Thursday, May 28th. Laura called Om and Om ordered flowers. The funeral director will take a photo of flowers and send to Laura. Paula was so appreciative. Paula sent Laura the bio and a photo of Margaret at her 100th birthday. Margaret had nine children, Paula is the second born. The flowers helped to ease the pain. Margaret was born in December, 1918.
Cory Z. shared that, in reading her obituary, he learned she was a life-long member of the Catholic Daughters. His grandmother was also a life-long member. Great team effort to help a fellow, and cherished, Rotarian to feel the love and support during this difficult time.
[Editor's note: I was unable to successfully download either the obituary or the photo of the flowers.]
Mike C. shared that Peace Fellow applicant interviews were held via Zoom on Saturday, May 23rd. There are two applicants this year. The first is Fernanda Wilent. She is a graduate of GFU. The other applicant is Seth Kinzie. He has a Bachelor's degree in conflict resolution from Lewis & Clark and a strong music background. He has been involved with peace advocacy work his whole life. His parents are also peace advocates. Mike C. spoke of the many countries where Seth has traveled and worked. A decision will be made late September, early October.
Brags:
Walter W. thanked Rotarians who filled in for Paula.
Judy R. thanked Auggie for the fabric for making masks. 500 masks will be donated to Providence from that donated material. One big thank you to Judy, Auggie, and Will for their efforts to make masks for the past several weeks. If you need masks, Judy knows of ten sewists in Newberg who can help meet that need. Contact Judy.
Next week's program will be presented by Linda Sandberg. She will present on the Chehalem Valley Leadership program. Chehalem Valley Leadership is a professional leadership development series and a program of the Chehalem Valley Chamber of Commerce.
It's a two-year course. Each month, in the first year, participants are provided a leadership training session, a tour of hosting organizations and business. They also hear from community leaders about the topic of the day; they learn about and observe leadership in various roles as they participate in active discussions around the day's topic. In the second year, participants move to a mentor role for the incoming cohort. We are looking forward to hearing more about this great program.
Guest speaker, Cherie Clark,
….career and college manager at Willamette ESD. Cherie began with accolades to Rotarian Connie Rice.
Cherie gave an update on what WESD is doing for students. "Over the past five years Willamette Education Service District (WESD) has been working with educators, workforce, and industry professionals to understand the challenges that come with a rapidly changing economy, fueled by constant changes in technology, delivery systems, and innovation, in addition to a strong competitive and global marketplace. Navigating this challenge leaves employers, educators, and students struggling to balance the current needs of building a workforce while preparing for future workforce readiness skills and abilities. The College for All philosophy leaves many students in debt, and often without the best training or education to succeed in the workplace. Education Workforce Partnership, facilitated by the WESD identified two barriers to student success in workplace." wesd.org/Page/1205
The Education Workforce Partnership, facilitated by the WESD, has identified two barriers to student success in the workplace:
Industry is not receiving work-ready employees. The greatest lack is professional skills.
Schools and districts are creating too many unique work-based learning (WBL) programs that complicate the ability for partners to participate; creating a lack of WBL opportunities where student learners can build on and demonstrate their professional skills in the workplace. New World Of Work is a California based company that works with the California Community College system to coordinate WBL opportunities between students and industries. WESD is following their model and has created a similar program which they call Control Tower. Control Tower is a new program to Willamette ESD and works with industry partners to develop professional skills and provide work-based learning (WBL) opportunities for students.
The unique features about the Control Tower program is the adaptability to change, the feedback loop, and students earn skills badges (going to be creating Oregon badges) that certify they have demonstrated comprehension and skill in a particular area. The badges are based on employer-driven essential 21st Century Employability Skills identified by New World of Work.
The ten badges that can be earned are: Adaptability, Analysis/solution mindset, Collaboration, Communication, Digital fluency, Entrepreneurial mindset, Empathy, Resilience, Self-awareness, Social/diversity awareness.
Currently, a California program trainer has to come to Oregon to train industry partners. WESD is working to create its own Oregon badging system. This will save $900 per participant. The same company that created badges for CA is located in Eugene and will create badges for Oregon. Setting forth a new model of teaching. Students will be better prepared and equipped for workforce.
WESD is also working to integrate the 10 skills in all classrooms so that it becomes a common language.
Research tells us that a student in college, no matter the major, if they spend a lot of time in an industry, no matter their degree, they will return to the industry where they have spent the most amount of time because they have built relationships.
Relationships and networking are important to success. Students visit different companies to determine their interest. Cherie gave a virtual tour of the web page and how they walk students through touring a company and how to get a job with that company. They then walk students through application for employment process. www.wesd.org/page/1076#calendar3433/20200527/month
This fall, they will have Zoom meetings to connect with students. Peterson Cats will pay for two year's tuition and $10k in tools. Cherie also discussed the various industry partners here in Newberg, i.e. Marquis and Friendsview have CAN opportunities.
If you and your company would like to become an industry partner, you will need to produce videos about the company, core values, and benefits. Include student opportunities. Send email to Cheri with information. Cherie can provide a flyer with criteria for videos. cherie.clark@wesd.org
WESD is also working to implement a software management program which allows WESD to get information to 20k students at one time.
Cory asked for clarification of the meaning and representation of the badges. Universities are one of the largest users of badges. The badge is a way of showing that you demonstrate that knowledge in the work place. Oregon badges will be as dual credit at colleges. It will take at least a year before we will have colleges that will treat it as dual credit. Students have two-year degrees, but we don't know if they can demonstrate skills within workforce setting. Badges help to certify this and employers can trust that the prospective employee has demonstrated certain skills. It demonstrated skill vs head knowledge.
Shannon Buckmaster thanked Cherie for her professional presentation and also thanked Connie for making the connection.
[Note from Kathie: A lot of specialized information was shared in a very short period of time. I took a lot of information contained in this newsletter from the WESD website, as well as the web site for the Foundation for California Community Colleges. The Foundation is the program Cherie referenced as the program WESD is modeling their Badging Program after. I cannot be confident that I recorded all of the conversation 100% accurately. So I encourage you to reach out to Cherie at WESD to get more information if you are interested in learning more about the Control Tower program. It's an exciting new way for students to learn and it is different from the Career and Technical Education (CTE) programs currently being used by schools. The biggest distinguishing feature being the ability for students to earn badges as they prove comprehension and, more importantly, demonstrated skills.]
https://foundationccc.org/What-We-Do/Workforce-Development/Workforce-Services/21st-Century-Skills-Badging
Respectfully submitted, Rick Kaufman, Newsletter Editor
Wisdom to consider…."Take your time, don't live too fast. Troubles will come, and they will pass."