Newberg Noon Rotary Club Newsletter for February 20, 2019
Rotary's Four-Way Test of the things we think, say or do:
#1 – Is it the TRUTH?
#2 – Is it FAIR to all concerned?
#3 – Will it build GOOD WILL and BETTER FRIENDSHIPS?
#4 – Will it be BENEFICIAL to all concerned?
Greeter: Laura Tilrico
INSPIRATIONAL Prez Om opened the meeting with reference to Rotaract's impactful story in the latest Rotarian Magazine….AND….AUCTION! AUCTION! AUCTION!
Dale Welcome led us in the PLEDGE.
Guests included: Veronica Garcia [sponsor/Kim Abraham]; Joe Hanna/Newberg City Manager [sponsor Om]; Amy Caruso [Mike's C's wife]; Katie Jameson [Sponsor Denise Bacon]; Lisa Salmon [sponsor Om].
Visiting Rotarians: Verity Caruso/Sherwood Rotary, and Rene Brouse/Sherwood Rotary Assistant District Governor: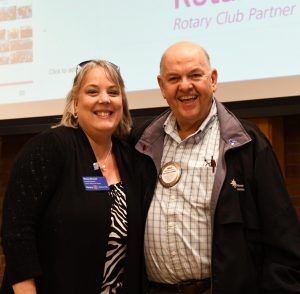 Paul Harris Fellow, Geoff Gilmore, recognized by Mike Caruso and AGD Rene:
Announcements: A NEWberg…take the survey or volunteer…for a "Thriving Future For Newberg"….take the survey by March 4. http://bit.ly/anewberg1 Contact Bayo Ware at : bayoan.ware@newbergoregon.gov
Patrick Bancke with NEPAL MEDICS [Heroes training Heroes] is headed to Nepal…for more info: www.nepalmedics.org
Corey Z. is headed to PETS [Presidents-Elect Training Seminar] in Seattle this week-end.
AUCTION ACTION!
Leah gave her weekly pep talk about the AUCTION….MARCH 23! SPONSORSHIPS! RECEIPTS for donations! SELL!…DONATE!…RECRUIT!
Dan had a "mini-tickets" special offer!
Paula reminded us to sign up for GREETER duties…..a FUN JOB!!

Judy R. spoke on youth scholarships.
Auggie commented on imminent Dental Project in Guatemala.
Rotary schedule for February 27:
Membership Committee Meeting- 11:30 AM – 12 Noon

Club Meeting (CCC) – Program: Celebrating Our History, Opportunities for Community Presenter: Greg Leo, The Leo Company, LLC – 12 Noon – 1 PM
Auction Committee –

1:00 pm – 2:00 pm
Mike C. handled the DUCK with the reminder that the contributions would be going toward Polio Eradication…..with today's contributions from several Rotarians totaling $162!
Today's Program was focused on ROTARACT…and some of the considerations for starting a Rotaract Club….with Pacific University graduate and Rotaractor, Lishao Chen [originally from Canton, China] presenting:
Covering the subject with lots of photos, Lishao said there are basically two types of Rotaract clubs world-wide…school-based and community-based. Age range is for 18 – 30 year olds. Attending the Rotary International Convention really opened her eyes as to the global extent and impact of Rotaract. Among other subjects she touched on: Leadership, fundraising, District Conference, and the many projects both local and global….such as the educational project "Pencils of Promise" in Laos, and the WASH personal and community hygiene program designed to reduce disease and improve neo-natal survival. It was obvious that Rotaract has had a positive impact on Lishao, and she can be reached at clishao@gmail.com for more information and the possibility of having her speak at other venues. [Ed. note: the Rotaract Club at Pacific University in Forest Grove is co-sponsored by the two Rotary clubs in that community.] THANKS, LISHAO CHEN!
BREAKING ROTARY NEWS from the 2019 ANNUAL CHAMBER of COMMERCE BANQUET!
Congratulations Julie and Walter Want, Rotary Club of Newberg Rotarians of the Year. Julie and Walter are always there to support our community and make things better. Thank you, Julie and Walter for your Service Above Self!
Congratulations to Rotarian Geoff Gilmore and GFU professor Luke Zimmerman who were presented the Newberg Community Enhancement Award for the Mural Project at the Annual Chamber Banquet. The 2018 mural is located at Steve's Auto. The 2019 mural artwork will be in the Newberg Cultural District on the wall of the Library Annex.
President Om Sukheenai, Mike and Amy Caruso, Leah Griffith, Kim Abraham and Julie and Walter Want celebrate Rotary success at the Chamber Awards Banquet.
What a week for ROTARY in Newberg!
Truly exemplary of…. ~ BE THE INSPIRATION! ~
Respectfully submitted,
Rick Kaufman
Newsletter Editor
[A bit of humor….A happy/content bullfrog sitting on the lily pad in the summer's mid-day warmth with a constant "buzzing" overhead…then
"sluuup"…and again…"sluuup"…a sticky tongue up and back…multiple times…"My how time's FUN when you're having flies!"…