~ GREETER ~
Spike Sumner was today's GREETER….Thanks, Spike!
~ Opening of meeting ~
Once again, Om, our TRULY INSPIRATIONAL Club President, opened today's meeting by
"ringing our chimes"…actually the Club's Rotary Bell!
Jeff Lane lead today's Pledge…Thanks, Jeff!
~ Visitors – Guests ~
Guests today were: Ivan Estrada/Public Health, Allen Holstien [Dan K.'s guest], Justin Garcia [Auggie's guest], and Rosa Olivares* [representing the City of Newberg]
~ Rotary Moment ~
Tony Lelack reminded us, with some examples, of the many/varied ways we see Rotary's influences not only in our local community, but way beyond…regionally and internationally.
~ Announcements ~
Ralph Koozer gave us an update on his wife, Gail's, situation with the debilitating disease, PSP. Among other issues which took her to the ER twice recently, because she has lost control of voluntary muscles, including swallowing, she must be fed through a tube. He thanked all who have visited and/or called….and those who have sat with her allowing him to get out of the house from time-to-time.
Program for 8/29/2018: Our speaker will be Ryan Dougherty, Vice President of Enrollment & Marketing at George Fox University….. "…I'm excited to come and share about all the exciting things going on at George Fox…"
~ "Tunes on Tuesday" ~
Be reminded again of the "Tunes on Tuesday" free summer concerts wrapping up this month at the Cultural District Plaza…for more information go to:
~ Follow-up on the Special BUTTESVILLE meeting last week… ~
By all accounts, according to those who attended, the special Buttesville "field trip" arranged by Corey Z. was a complete success! For those who were unable to attend, here's a brief historical review: The Buttesville General Store is an Oregon State Heritage Site and is operated by the Friends of Historic Champoeg. All proceeds from the sale of just about everything in the store benefit educational and interpretive programs and Champoeg State Park, which is conveniently just a few miles down the road. More information to be found on the website….just enter "Buttesville, Oregon" as a search request.
~ The Duck ~
Todd Engel handled this week's DUCK "offerings"…and did a terrific job of "extracting" contributions from several Rotarians present…including "Congratulations" to the two "newlyweds" in the club….and NOT married to each other!! Newlywed Geoff Gilmore reported on the progress of the Rotary Mural Project…. The "Grand Opening" for the mural is still in the planning stage, contingent upon the project's completion date.
~ Today's Program ~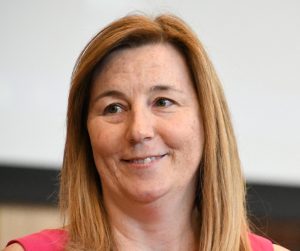 Newberg Noon Rotary Club prides itself in its involvement with our delightful, livable city. So, it is only fitting that we get occasional updates as to what is happening within City Hall... and today's speaker was Cheryl Caines with the City of Newberg Planning Department. She spoke in depth of the City's "Riverfront Master Plan"…and how it is in need of making changes from when it was first adopted in 2002. She backed up her comments with a short-but-comprehensive show of images on our "big screens". A public "VISIONING" meeting is planned for Edwards Elementary School Cafeteria tomorrow [August 23] to get input from the community. Basics of the The Vision Statement include, among other considerations, "..a place that is accessible, visually appealing, and safe." For those interested, a Market Analysis can be found on the City's website. She provided us with a variety of images of how other cities have addressed similar "riverfront" planning challenges, including Eugene, and Spokane, Washington. There was a LOT of discussion as to the multiple/mixed uses [i.e., residential, recreational, industrial, retail] already in existence as well as those suggested for the future, with the zoning, geographical and geological challenges, unstable riverbanks, and "What about the old mill site?" Cheryl's presentation objective was more to bring awareness of the on-going Riverfront Master Plan efforts to get input from the citizenry rather than to inform us as to any definitive decisions having already been made on the subject. Cheryl was assisted/backed-up by our guest *Rosa Olivares, the City's Community Engagement Specialist.
A BIG THANKS to Cheryl for a very informative presentation!
President Om then closed the meeting with her usual ROTARY SERVICE reminder…to
"Be the Inspiration!"
In Continuing Rotary Service,
Respectfully submitted,
Rick Kaufman
Newsletter Editor
[P.S. – Editor's request…would whoever is GREETER please put your name on the data sheet AND please write (legibly!) the names of all guests….and who their "sponsor" for the day is.]