We've all done our Classification Talk–it's part of the process of becoming a Rotarian. Imagine doing your Classification Talk again many years later– but this time as a "Heritage Speaker," reflecting on your years of membership in Rotary. That's what long-time members Dr. Stan Kern and Spike Sumner did at our meeting last week, and it was fascinating to hear their reflections on "how it used to be."
Did you know the club used to meet at the old Riverwood Golf Course in Dundee? And at Jay's Restaurant? And at the old Bowman's Restaurant? "The food sure has been varied," laughed Stan.
One of the biggest changes Stan's noted is that membership used to be available to men only, and everyone wore a tie to meetings. Note: There were only three men wearing ties last week.
"Can you imagine? We used to do fruitcake sales," said Stan. "They were to be used as doorstops. We also used to have a pumpkin growing contest."
One story I enjoyed was about the origins of the Duck. Spike said it started as a plastic pumpkin that was used to collect fines. Since it was orange, it got connected to the Beavers. Everyone knows Spike's a passionate Oregon Ducks fan, so he took a duck decoy from his collection, cut a hole in it, and the rest, as they say, is history…..
Dr. Stan figures he is now the oldest serving member of the club, with a whopping 53 years in Rotary. He gave us some background on how he became a physician in Newberg, and how that led to his Rotary membership.
He developed a desire to be a doctor early in life. He was one of six kids, and had a sister who passed away from whooping cough. " I felt reassured when the doctor was there. Of course, that was when doctors still made house calls," he said.
Two things helped enforce the idea he should be a physician and in Newberg: One was that the doctor in town was driving a new Chrysler, while Stan's dad was driving a Chevrolet! The other was that a physician in Newberg was looking for someone to take over his practice for three years, and Stan decided to take a chance. He was then invited by another physician to attend Rotary. The speaker at that meeting was Mark Hatfield. "I was impressed by the caliber of people," he said.
"Rotary to me is involvement, " he said, "with things like the scholarships, meals on wheels." He was president of the club in 1975-76.
Spike joined Rotary in 1985, making this his 32nd year of service. He said he never forgot giving his Classification Talk the same day as a former member, Pete Nelson. "Pete happened to say in his talk, 'Who in the world would want to go to Coeur d'alene, Idaho? Well, it turned out I got up there next and said, 'I grew up in Coeur d'alene, Idaho!'"
Spike is married, with 3 kids and 6 grandsons. "I love being a grandpa," he said. "We have an annual Memorial Day camping trip, which I really enjoy and am looking forward to this year."
Spike started working at the Newberg Community Hospital in 1983, which at the time was city-owned. He retired last December as Director of Finance at Providence Newberg hospital, and mentioned some career milestones:
July 1994–joining the Providence group and serving as president of the club that year
The new hospital–took 10 years to happen, but very proud of the result
Serving as President of the Foundation Board for several years
"We did lots of good things…scholarships, education projects, helping CPRD……."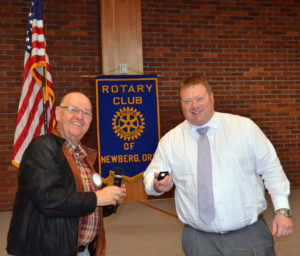 Mike Caruso handed out three Paul Harris awards last week. Congratulations and thanks to: Grant Austin, LeRoy Benham and Jeff Lane. Our club has 16 Paul Harris fellows ….Mike also announced he was on his way to two locations: Hermiston to help plant a peace pole at Blue Mountain Community College, and then to Chicago, where he will be attending the opening of a special opera written by his son.

MISCELLANEOUS:
Grant Gerke had incredible news. He told us that both our club and the morning club could EACH expect a check for about $100,000 in May from the proceeds of the sale of A-dec's portable equipment. On top of that, $18,000 will be given to the Salzburg, Austria club. How very, very fortunate our club is…….
Ralph Koozer reported that the new Habitat for Humanity building has been dedicated, and the Restore should be open by the end of the month.
President-elect Todd Engle announced he will miss this week's meeting due to plans to become a grandpa for the 5th time. He knows this for sure, as his daughter is scheduled for a C-section!
And Dan Keuler shared a great story –he and his wife are expecting their first child. They had an ultrasound done, but did not look at the results. They plan to "open the envelope" to find out the gender on Mother's Day.
PEACE POLES:
Sharing some photos of the fabulous "Peace Pole Dedication Project" last week. Rotary provided for some 50 poles in Newberg, including one at every public school!
Save the date! The 7th annual "Rubies & Roses" benefit ball for Chehalem Youth and Family Services is scheduled for Saturday, June 3 at 5 pm at the Cultural Center. Donations, sponsors and attendees welcome.