The auction has been an annual event since the 1980s but its origins can be traced back earlier than that. In 1975 the club needed to raise money to donate to the Rotary Foundation. To do this, Rotarians brought small items to a club meeting where a small auction was held. This method of fundraising proved to be quite successful as one year nearly $400 was raised.
In 1982 the auction had grown enough to become its own event. During Floyd Aylor's presidency, it was no longer held at a normal Wednesday meeting. Instead Rotarians gathered during the Old Fashioned Festival to participate in the auction which was not raising significantly more money than it had in the past.
The event moved again when Leonard Attrell became president. Instead of taking place during the Old Fashioned Festival, the auction was held sometime in February. The venue for this winter event was the Armory. This move certainly contributed to the success of the event.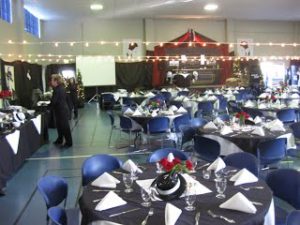 In 1987 a goal to raise $15,000 was set and exceeded.
In the early 2000s a couple of changes were made to the auction. The first was to the recipient of a portion of the auction funds. An organization called Thugz off Drugz (now Helping Hands) was chosen as the main group who would receive money earned at a paddle raise at the auction. This organization helps convicted drug felons after their return from prison. Another major change was to the location of the event. The Allison Inn was offered as an option
and this switch helped the club set even higher records for the amount of money it brought in.
The Auction is set to change again in 2019 with a move to the beautiful Chehalem Cultural Center. This venue is becoming the place in Newberg for events and will make for a fun and exciting auction event. Wines and adventure packages will be featured.
Months of planning go into making this event happen each year. Each auction is
enjoyed by Newberg Rotarians and community supporters.