Every summer, as part of the community-wide Old Fashioned Festival, the Newberg Noon Rotary Club joins with its sister club, the Newberg Early Birds Rotary Club, to sponsor a pancake breakfast in Memorial Park. The two-day event serves up all–you-can-eat pancakes (blueberries available, too!), eggs, sausage, orange juice and coffee and is one of the Club's most popular events.
The annual feed began in 1966 while Joe Schneider was president and has continued every year since then. This event started as a club fundraiser with the original intent of funding youth programs. To make this event a success, the involvement of many Rotarians and community members is essential. Joe Schneider donated eggs for the first few years and enlisted the help of the Rotary sponsored Boy Scout Troop to crack them. The Boy Scouts surely did their best with the task but sometimes the Rotarians would have to check the Scout's work to make sure there were no shells left behind.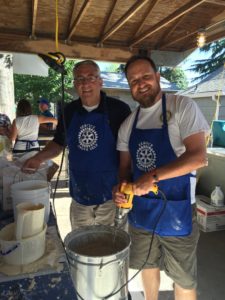 The event is now as much of a community event as it is a fundraiser with thousands kicking off their day at the Old Fashioned Festival with Rotary Pancakes.
The auction has been an an
nual event since the 1980s but its origins can be traced back earlier than that. In 1975 the club needed to raise
money to donate to the Rotary Foundation. To do this, Rotarians brought small items to a club meeting where a small auction was held. This method of fundraising proved to be quite successful as one year nearly $400 were raised. As this event continued, it grew and became the annual auction that raises over $130,000 each year.
Chehalem Senior Meals Program
On the first Tuesday of each month, as part of the Chehalem Senior Meals Program, friendly volunteers from the Noon Rotary help serve lunch to Newberg seniors at the Chehalem Senior Center. Rotarians work in two shifts. The first shift prepares food for delivery to homebound seniors—Meals on Wheels. The second shift of Rotarians completes a variety of tasks from preparing plates of food to serving to cleanup–all accomplished in a fun atmosphere. According to Club coordinator, Paula Radich, "The seniors are very appreciative of our help in serving a balanced meal and making them feel at home. Plus, our volunteers get to know some great local folks."
Memorial Park Clean Up
Every year, in honor of our nation's veterans, Noon Rotarians volunteer to "spruce up" Memorial Park, just prior to Memorial Day activities held there. From weeding to spreading barkdust to pruning shrubs, Rotary volunteers help ensure the park is ready and in nice condition for the remembrance celebration.
Community Playgrounds
Newberg Noon Rotarians have supported the construction of playgrounds at Memorial Park, Hoover Park and other areas around the community. Rotary Centennial Park is a featured space with Noon Club and Early Birds coming together to build a big playground in honor of Rotary's centennial. In 2014 the clubs partnered with others to add a splash pad to Rotary Centennial Park. The park is located in the Newberg Cultural District, adjacent to the Chehalem Cultural Center and the Newberg Public Library