For a few years the Newberg Rotary Club had been looking for an international project. There were a couple of ideas for different locations including a potential project in Mexico. Even though beginning a relationship with a club in Guatemala was going to cost the Newberg Club a bit more than starting a project in Mexico, it was decided that this opportunity would be more beneficial to everyone involved. The Guatemala project began in 2004 with the intent of helping small villages emerge from poverty. There were different elements to the project including dental work, medical care, water purification, construction and electrical work, and a MicroCredit program.
The first team to go to Guatemal
a worked in the city of El Hato. They conducted dental work
in order "to decrease the need for extensive dental care and to expand dental education and cleanings, as well as, provide fluoride treatment to the children getting cleanings." At the time of the first visit, the community did not have electricity and most of the dental work was extractions.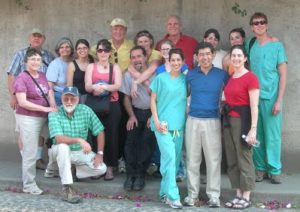 The following year a team returned and was glad to learn that the village had received electricity. This year they were able to perform a medical clinic and begin testing the water that the village was using.
By 2006 the program had expanded to include the city of Vuelta Grande, which had also just recently received electricity. Medical and dental clinics were performed in both cities. Antiquated water systems were found in both locations so water testing was performed to make sure the communities had safe water.
There was a minor set back the following year as it was discovered that some electrical wires had been excavated as a new classroom was built in Vuelta Grande. The Antigua Rotary Club provided a generator as the water team continued to test and update the water systems.
As the dental, medical, electrical, and water projects continued, a micro banking project was introduced to El Hato in 2008. This program worked to help women develop a business enterprise. The first year of the program was dedicated to helping women raise pigs and chickens. In addition to the micro banking project, an educational program also received its first year of funding. By 2009 all five projects were up and running with help from other Rotarians and clubs in Los Olivos, California; McMinnville; Camus/Washougal; Vancouver; Portland; and the Early Bird Club.
By 2011 everything was running smoothly. The clinics this year were quite successful, due in large part to the supplies that were purchased and the villagers who were registered ahead of time. This planning and coordination was carried out by the Antigua Rotary Club. Even though everything was planned so well there were still problems. When the Newberg team arrived, they found that their supplies which had been kept in storage had suffered some serious water damage. Thankfully, some of the Vuelta Grande community members helped clean the mold and mildew off of the supplies. Overall this year's trip was a success and the group even celebrated with the local community which provided handmade refreshments.

There was no medical clinic in 2012 and significantly fewer people participated in the whole program. There were serious fears and concerns about increased violence, drug activity, and political conflicts that led to this drop
in participation. However, these fears turned out not to be a problem and the dental clinic ran smoothly. The highly qua
lified dental team consisted of five dentists and three fourth year OHSU dental students.
As the relationship with Guatemala continued, there was no medical clinic in 2013 but there was a dental clinic and funding continued to go the education program. The community really seemed to be getting interested in Rotary's work as they asked for use of the equipment even when Rotary wasn't there.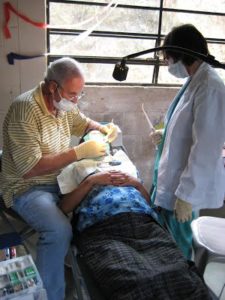 In 2014 the dental team worked in a community outside of Antigua, known as Guardiania de El Hato. This was a lovely community to serve but since it seemed to have better access to dental services the team decided no to return. The team also decided
to change the location of the dental clinic. They had been using a local school but tensions with the school administrator led them to move.
The dental clinic and support to the educational program continued into 2015. The two main communities that had been supported through these programs were El Hato and Vuelta Grande. However, due to low attendance in the previous year, the team did not go to Vuelta Grande, but instead to the community of San Mateo, Milpasos. Villagers from Vuelta Grande were invited to come to either of the other two clinics.
The team expected the needs at San Mateo to be easier to treat since they were closer to accessible dental care. However, once they started to see patients, they realized that most children had never seen a dentist. They performed many extractions and saw a record number of patients two days in a row. To ensure that everyone needing dental care was seen they developed a process of meeting with those who had the greatest need first. They also specialized work stations so specific tasks were performed at each station.
The continuing work of Rotary has made a lasting impact on these Guatemalan villages. When work began, the dental teams mainly performed extractions but as the years went on they were able to teach the villagers about dental hygiene so that subsequent trips could focus more on maintaining dental health. The Micro Banking and educational programs have gone a long way in helping the communities become more economically stable. Overall, the effects of the Rotary Club's work should be seen for years to come.