Newberg Noon Rotary Club Newsletter for June 19, 2019
Hang one to your hats, fellow Rotarians….as this is  CELEBRATION TIME!  More photos than usual…taking special notice of all the SMILING FACES and HAPPY PEOPLE!  THANKS, AUGGIE!
What a PARTY!  What a VENUE! What a GATHERING!  What an OCCASION!  Outgoing Club President, Om, resplendent in a very colorful Thai dress, let us know how much she enjoyed her year "at the helm" of our Rotary Club…but that it was a TEAM EFFORT…..and that it was now time to publicly thank those who contributed the extra efforts to make her year as Club President, successful.
Our annual "INSTALLATION DINNER"…or "Changing of the guard"…or "transitional party"….or whatever you want to call it….as it has different "names" depending on the local decisions of each Rotary Club globally.
Shannon did her usual "Buck-masterful" job of organizing this shindig!  Table arrangements were handsomely ELEGANT!  With Leslie Zook of Flourish Events & Design responsible for the beautiful table settings!  The wine reception gave an opportunity to be sociable prior to dinner.
The facilities at FURIOSO WINERY/VINEYARDS were TERRIFIC!  Amazing architecture….including peeks through the floors at the wine barrel storage beneath our feet…and the VIEWS of the Willamette Valley and beyond were/are INCREDIBLE!
A slight breeze off the Red Hills of Dundee kept the air freshened…..and…we were treated to an interesting history as to how this lovely place came about…by the winery's Jack Matney…check out Furioso's website for a fascinating in-depth history…from an hour east of Rome…to the Red Hills of  Dundee, Oregon!

Before we partook of another great meal, FELLOWSHIP was the order of business….with everyone enjoying chatting on many subjects, not the least of which were the great setting and magnificent views from the winery!
Our favorite caterers, Bon Appetit, did their usual splendid job of providing us with delicious sustenance!  Thanks to Wendy Meinhardt and Francie Gilmer for yet another fantastic meal…of lemon roasted chicken with Rosemary au jus and other savory yummies!
The gathered throng enjoying fellowship and the delicious dinner with select "house" wines!
And….FURIOSO's house wines were DELICIOSO!
Part of the "MAGIC" that is Rotary, is the changing of leadership annually….which provides a regular "freshening" of the perspective of each club's personality and goals….locally, regionally and internationally.  The annual party to celebrate this leadership "re-birth" provides the opportunity to do a quick review of the club's accomplishments…recent as well as historically…and to publicly affirm the Club's commitment to "Service Above Self" as it moves forward into each new Rotary Year.
Certainly out-going President Om has been a shining example of "Be The Inspiration"….the 2018 – 2019 Rotary International President's motto.  And she acknowledged a TRUTH embodied within Rotary….that the accomplishments…both large and small…are a TEAM EFFORT!  Naturally INSPIRATIONAL, Om did an EXEMPLARY job as Club President!  As part of that TEAM EFFORT she acknowledged the special efforts of those who were so instrumental in "making things happen" during her year as Club President….the success of Newberg High School's Interact Club under the INSPIRED guidance of Judy Robinson…not the least of which included that group of students being the FIRST IN THE WORLD being named as a PEACE FELLOW Club!
Then there was recognition for another successful AUCTION under the leadership of Leah Griffith….who will soon be leaving us to join the Seaside Rotary Club following her well-earned retirement from years of public service as Newberg's LIBRARIAN! 100% attendance for the year…and Leah also received the Club's "Service Above Self" award!
Auggie Gonzales led yet another successful DENTAL CARE TEAM to Guatemala….and Dr. Eric Bergquam took his DENTAL TEAM to Nepal
….backing up Patrick's EMT efforts there as well.  Mike Caruso spoke of the importance of Paul Harris Fellowships [PHF] and The Rotary Foundation…giving a brief history of same….and presented another PHF to Dr. Eric.

Rotarians of the Year…Julie and Walter Want!
     Club Secretary extraordinaire!….Paula Radich.
  What a pair to draw to…the party's organizer, Shannon, and Om getting her 5 year certificate!
  Proud Mama and excited daughter/Interactor……Paris…..with the beautiful vineyard as backdrop!
  Kim Abraham, Rookie of the Year award recipient…and new Membership Director…taking over from Shannon Buckmaster.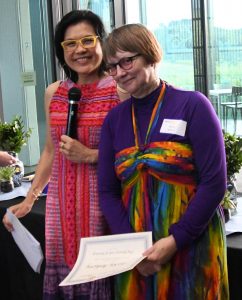 Becky Ankeny, receiving her 100 % Attendance Recognition certificate….
    Corey Z. also got one!
…Auggie G. proudly showing off his 100% Attendance Recognition certicicate….
…Obviously enjoying retirement, thanking Om, Jim McMaster also receives his 100% Attendance Recognition.
…with a special gift for Om, Corey Zeilsdorf congratulates the now-Immediate-Past-President and takes over as Club President for Rotary Year 2019-2020….announcing that the new Rotary International President's [Mark Maloney & wife Gay, from Decatur, Alabama] Motto is..."Rotary Connects the World"….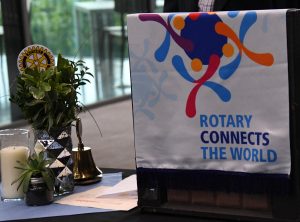 As new Club President, Corey Z. gave a delightful/thoughtful acceptance speech…with special thanks to his wife, Reno, and his parents, Dan and Anne Zielsdorf.  They have a small farm just outside Newberg where they raise organic blueberries. They just celebrated their 50th Wedding Anniversary this last weekend.  And Corey's super-supportive wife, Reno, who is an elementary teacher in Sherwood. They have two teenage daughters, one is in middle school and one is in college. They also have a Yorkie named Gus, and live here in Newberg….Corey then swore in his new Club Officers & Directors:
…Besides President Corey , The 2019 – 2020 Club Officers & Directors:
Immediate Past President Om Sukheenai; President-Elect Shannon Buckmaster; Vice President Tony Lelack; Secretary Paula Radich; Treasurer Terry Weldon; Membership Director Kim Abraham; Community Service Paul Jellum; Public Relations Director Lisa Salmons; Vocational Service Director Jim McMaster; International Service Director Laura Tilrico;  Youth Service Director Judy Robinson;  The Rotary Foundation Director Mike Caruso; Club Service Co-Directors Om Sukheenai & Matt Stephens.
After thanking everyone for coming, President Corey closed the meeting reminding us to follow the Four Way Test of Rotary of the things we think say or do….
First – Is it the TRUTH?
Second – Is it FAIR to all concerned?
Third -Will it BUILD GOODWILL and BETTER FRIENDSHIPS?
Fourth – Is it BENEFICIAL to all concerned?
AND…for us to each do our own part in helping assure that…..
"ROTARY CONNECTS the WORLD!"
Respectfully submitted,
Rick Kaufman
Newsletter Editor
At CCC, June 26, program is "Servant Leadership in Afghanistan"
and…NO MEETING on July 3!