Newberg Noon Rotary Club Newsletter for July 18, 2019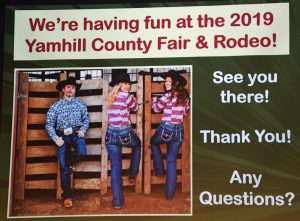 Greeter today was
President Corey opened the meeting…..
The Pledge was led by Paul Jellem.
Guests/visiting Rotarians……none other than those with the program.

Non-revenue announcements…..Pancake Breakfast stuff…..reminders to SELL – SELL – SELL…and sign up for volunteer slots now…especially for Sunday's breakfast!

DUCK…..collected $28.25…..
  Fred Gregory's recognition for ten years service!
    Geoff Gilmore shares a mural-related Rotary Moment.
Shannon Buckmaster's daughter, Anna, is now a Rotary International Exchange Student…w/ short-term exchange with Elena!

Rotary Exchange Student TO Spain…..Anna Hinkle-Buckmaster, is a Short-Term Exchange Student through Rotary this summer.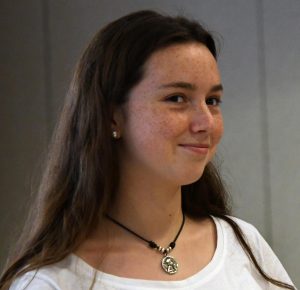 Rotary Exchange Student FROM Spain… Elena Company Domenech of Alcoy, Spain.
Jackie Spurlock…..https://www.newbergrotary.org/event/club-meeting-ccc-topic-tbd-11/?instance_id=3698
Upcoming program featuring Jackie…..check the club's website/events.
Program:  Yamhill County Fair and Rodeo….with….intro by Fair Board Member, Leslie Lewis…..
Leslie Lewis with the Yamhill County Fair Board:  A Wheeling, Squealing Good Time!
Welcome to the Oldest County Fair in Oregon. The first fair in Yamhill County was October 7, 1854, and was held in Lafayette, Oregon. It was sponsored by the Yamhill County Agricultural Society, which formed in 1853. That first fair included bed quilts, butter, cheese, vegetables, cattle, sheep, hogs, farm implements, horses, mules and so much more.  Over the years there were many changes to the county fair location and facilities. The current site was acquired by parcels over several years and buildings were added. Our current location, just off of Highway 99W on Lafayette Avenue, is on 30 acres with housing for exhibits and animals as well as a show arena open year-round for shows and youth events. We are in the center of Yamhill County in the heart of wine country. Our facilities host the Yamhill County Fair and Rodeo each year as well as a variety of events throughout the year to include trade shows, conferences, parties, weddings, banquets, horse shows, and dog shows. Our grounds feature facilities and locations for outdoor and indoor events of all types.
July 17 was also our day to visit Newberg Noon Rotary. Fair Ambassadors Christopher, Izzy and Emily answered many questions about 4-H, FFA and the Livestock Auction, which will be held on Saturday August 3. Emily responded that it is very sad to sell a market animal raised to be sold at the Livestock Auction, but the proceeds from the sale help toward college expenses. Izzy explained how goats are judged during the Goat Conformation competition. Christopher was asked the difference between English and Western equitation.
We encourage everyone to come to the Fair and see all of these events and congratulate these young people on all their hard work raising and training their animals! Many thanks to President Corey Zielsdorf and Vice-President Shannon Buckmaster for the opportunity to speak to your Rotary Club.
    Fair Ambassador Christopher Trapp and his projects 
  Fair Ambassador Emily Hembree and her projects
  Fair Ambasador Izzy Tillotson and her projects   
Yamhill County Fair dates: July 31 – August 3.  FUN for the whole family!
As Club President Corey closed the meeting….we were reminded of Rotary's Four Way Test of the things we think, say or do:
First – Is it the TRUTH?
Second – Is it FAIR to all concerned?
Third – Will it BUILD GOODWILL and BETTER FRIENDSHIPS?
Fourth – Is it BENEFICIAL to all concerned?
AND……RI President Mark Maloney's theme for 2019 – 2020:  Rotary Connects the World!
Respectfully submitted,
Rick Kaufman
Newsletter Editor