The Four Way Test and the idea of service above self are some of the guiding principles that help make Rotary such an outstanding organization. The Four Way Test asks "Of the things we think, say or do: Is it the TRUTH? Is it FAIR to all concerned? Will it build GOODWILL and BETTER FRIENDSHIPS? Will it be BENEFICIAL to all concerned?" Since its inception in 1935, the Newberg Rotary Club has consistently lived up to the Four Way Test. Through many service projects and times of fellowship, Newberg Rotarians are constantly being truthful, and fair while building goodwill and better friendships. Hopefully, by reading through the history of the club, you will be able to see how this group has continually put service above self for the benefit of Newberg and communities throughout the world.
The Rotary Club of Newberg was organized December 20, 1935 and received its charter February 5, 1936, with 22 charter members, becoming the 3,910th club in Rotary International which was in 79 different countries. The charter presentation was sponsored by the Rotary Club of Portland and was presided over by District Governor Stanley Long of Seattle. Today there are over 34,280 clubs around the world in 200 countries with over 1.2 million members.
Until the 1960's th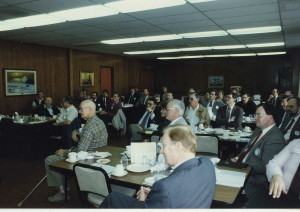 e Rotary Club of Newberg met for its weekly Wednesday luncheon at the Chamber of Commerce rooms, above City Hall, then moved to Bowman's Restaurant at 400 East First Street (currently occupied by Lucky Fortune Chinese Restaurant). It outgrew Bowman's and moved to Riverwood Golf Clubhouse (located west of Dundee) in 1974. Meetings were moved back to Newberg in 1978 to the Chehalem Park and Recreation District Center and later to the Cap and Gown Room at George Fox University's Heacock Commons. In 2016 the growth of George Fox University resulted in the club moving their meetings to the Chehalem Cultural Center in late August.
Sources: 50th and 75th anniversary editions of the Newberg Graphic, copies of which are located at the Newberg Public Library Club Presidents History Book Rotary.org The Rotator The Rotarian The Newberg Graphic George Fox University Archives.
Note: As part of the club's celebration of its 80th anniversary in 2016, Britta Stewart was hired through the Chehalem Valley Chamber of Commerce Internship Program. During the summer of 2016 Britta, a junior history major at George Fox University, went through years of Rotary club documents and interviewed a number of past presidents. Her work is a valuable history of our club as well as the Newberg community.