~ Newberg Noon Rotary Club Newsletter ~

Rotary Club of Newberg, Zoom Meeting
Wednesday, May 25, 2022
~ Call to Order ~
Vice President Wendy McArthur welcomed Rotarians and Friends of Rotary to the Hybrid Live/Zoom meeting at 12:00 p.m. Wednesday, May 25, 2022 at the Chehalem Cultural Center.
~ Flag Salute ~
Ralph lead participants in the Pledge of Allegiance.
~ 4 Way Test ~
Dan K lead participants in the recital of the 4 Way Test:
Rotary's Four Way Test of the things we think, say and do:
#1 – Is it the TRUTH?
#2 – Is it FAIR to all concerned?
#3 – Will it BUILD GOODWILL and BETTER FRIENDSHIPS?
#4 – Is it BENEFICIAL to all concerned?
~ Announcements ~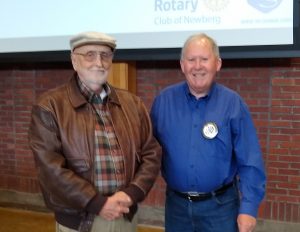 Big Congratulations to Leroy Benham! Spike made the big announcement about the newest addition to our annual scholarships, which he announced officially is named after a member who joined Rotary in the 1970s, helped form the Club Foundation, used to use a fax machine to distribute the newsletter, was the Club President in 1994, launched, with Auggie, the dental clinic in Guatamala, managed the Rota-dent program for over 10 years, and won the Service Above Self Award in 2008. Leroy has been, for decades, a critical contributor to our club. It will be titled the "Leroy Benham Rotary Trades Scholarship, effective this year and annually awarded in his name.
Interact's free public clinic at the Park has officially been rescheduled to May 28th from 10am to 2pm at Fernwood Grange. The event will be supporting people in need of pet supplies, vaccines, and microchipping. Please spread the word to help make this event a big success in serving our community.
Rotary Installation Dinner and Past Presidents Dinner – The event will be celebrating outgoing and incoming officers, presenting awards, giving thanks to past presidents' service. It will take place at the Chehalem Wine Tasting Room on June 16 at 6:30pm. Plus ones are welcome, and it is VERY IMPORTANT to RSVP as soon as you can to ease the stress and make for a smooth planning process for the event. To RSVP, email wendymcarthur1000@gmail.com. Contact Michelle Colvin regarding payment: Tickets are $35 per person and include dinner, wine, and fun (it really was an amazing value and a lot of fun last year).
Our Annual Memorial Park Cleanup Event – For those who don't know, our Club annually participates in an effort to cleanup Memorial Park in advance of Memorial day activities. This involves cleaning and laying barkdust. We need as many people as possible to help in this effort, and it will take place on Thursday, May 26 from 4-6pm.
~ Guests ~
Bubba King, Guest, Honey Pie Pizza
Mary Lines, Guest, Christy's mother in law
~ The Rotary Duck ~
Karan: Announced on behalf of the Pancake Committee that the ticket prices are officially going to be set at $7 for adults and $4 for kids. They will still have paper tickets, and still looking to get sponsorships.
Wendy: Received only 2 RSVPs over the last week for the Installation Dinner. Please contact her to RSVP.
Shannon B: Noted that she has already RSVP'd AND paid for that installation dinner. Also noted that she sold and bought a house and is now all moved into her new charming fixer-upper. Special thanks given to Kim Abraham for her amazing services as the Mortgage Specialist.
Kim: Thanked Shannon for the kudos and mentioned she plans to RSVP to the dinner immediately.
Jim: Noted that he will not be able to attend the dinner, and also reminded everyone that that Thursday is the Memorial Day Cleanup from 4-6pm.
Paula: Congrats to Leroy regarding the scholarship. Noted that she is excited for this new scholarship and gave thanks to the folks who work on that committee.
Julie: Also gave congrats to Leroy, noting that he has done so much amazing work to deserve this honor.
Ralph: Conveyed appreciation on behalf of the Grad Night committee for the money Rotary donated to that program.
Dan K: Noted that he and various club members are working with Rotary International to resolve some discrepancies regarding RTF donations being made by members but not attached appropriately to that member or to our club. If anyone has donated between now and Jule 2021, please let Dan know as it will help him reconcile that important metric for the Club. To ensure that you get credit, you can log into MyRotary.org before clicking donate.
Emily G: Shared that A Family Place is in need of volunteers. There are fun opportunities including making lunches, hanging out and spending time with kiddos, reading books and playing. It also includes Diaper delivery efforts, which would be once a month on Thursday.
Lisa: Good to see Ann Dolan.
Spike: Mentioned how difficult it was to follow Leroy as the Club President, which was difficult because Leroy was so funny and so much fun during his year. Also announced that Allen Methven's services will be on June 4 at their Winery in Dayton from 2 to 5. Also John Kerekanich's services will be held on August 7th.
Walter: While out enjoying wine at a local winery, the young server told Walter that she recognized him as having helped with her dental work when she lived in Guatamala.
Denise: Congrats to Leroy for the Scholarship. Also noted that the Interact's Club project is on the weekend at Fernwood Range, where volunteer help with setting up and taking down would be appreciated.
~ Today's Program: City of Newberg URA Updates with Denise Bacon ~
Denise shared a bit about herself: Denise considers her roles in life to include being a Mother, Wife, daughter, community member. He family and her parents have always been supportive of trying to do good. She also noted that she is the longest sitting Council Member on the Newberg City Council, which she has been serving for 14 years, which she has learned a lot from. She has a Bachelors in Political Science and a Master's in Public Administration. She also has done work in the Criminal Justice System and is a Doctorial Candidate as well. Her dissertation is on Police trauma and community Trauma from the administration aspect of police and how to have healthier police forces. Her paying job is as a field staff for the Ford Family Foundation, where in short she spends her time helping the community.
One of the biggest things happening in the City of Newberg is the planning and development of the Newberg Urban Renewal Agency (URA). She pointed out that a URA is not a tax or does it result in a tax increase. What is actually happening, is that the Agency is taking taxes already due off the top of each taxing authority, and investing in local businesses and infrastructure. This UR District includes, most importantly, development work over at the Mill Site. The developing of that area of town is critical for our community. That property is in good hands as the owner has done a lot of this type of development, doing great things with similar properties. They have a great reputation for the cleanup and will be a great partner for the community. She noted that they do not plan to bond on any projects until they know what the project will be. They can help bring good jobs, including much needed industrial, to the community. She also noted that every 5 years they are required to complete a check-in to make sure the URA is following the intended plans. This URA should be a great tool for improving our already amazing City of Newberg.
Denise also noted that there are going to be a lot of awesome opportunities for industrial growth, which she is personally working with different businesses on in terms of who is in need of additional industrial space. She also noted that there was a portion of the URA District that was taken off due to political disagreements with the County, though a lot of land was Annexed over the years within this area.
Check your e-mails for Zoom meeting access information, special announcements, and newsletter release notifications.
~ Joke of the Day ~
Why did the bicycle collapse?
It was two-tired.
~ Happy Quotes! ~
"Growth today, is an investment in tomorrow."
– John C. Maxwell
~ Published 5/31/2022: Dan Keuler, Newsletter Editor ~