~ Newberg Noon Rotary Club Newsletter ~

Rotary Club of Newberg, Zoom Meeting
Wednesday, July 21, 2021
~ Call to Order ~
Immediate Past President Shannon Buckmaster welcomed Rotarians and Friends of Rotary to the Hybrid Live/Zoom meeting at 12:00 p.m. Wednesday, July 21, 2021 at the Chehalem Cultural Center.
~ Flag Salute ~
Jim lead participants in the Pledge of Allegiance.
~ 4 Way Test ~
Kim lead participants in the recital of the 4 Way Test:
Rotary's Four Way Test of the things we think, say and do:
#1 – Is it the TRUTH?
#2 – Is it FAIR to all concerned?
#3 – Will it BUILD GOODWILL and BETTER FRIENDSHIPS?
#4 – Is it BENEFICIAL to all concerned?
~ Announcements ~
Dan and Mike presented Eric Bergquam with his Paul Harris +8 pin, which mean he has donated more than $9,000 to the Rotary Foundation over the years. Congratulations and thank you for your continued dedication and generosity! Mike also announced that Dan will be presenting future awards as Dan is taking over as the Foundation Chair for the 21-22 year.
Pancake Breakfast is this Weekend! We hope to see you there! The Event will be Saturday July 24th from 6am to noon.
Please RSVP for the Installation Banquet! It is Wednesday July 28th. There may still a few tickets available, check with Brandy.
Welcome to the Club Mary Jane!
Shannon B, the membership Chair Kim, and the Club also officially welcomed and inducted the newest member of our club: Mary Jane Hendrix. Mary transferred to our club from the Newberg Early Birds Club. Welcome Mary Jane!
~ Guests ~
Kyle VanBergen, Guest, works with Evergreen Home Loans
Daniel Futornick, Guest, Son of Kathi
Kyla Sliger, Guest, Loan Officer at Guild Mortgage
Elsa Bergquam, Guest/daughter of Eric Bergquam
~ The Rotary Duck ~
Mike: Noted that today is Polio Plus day and highlighted the great work Rotary has done with the eradication of Polio. Mike reminded us that in 1985, when the Polio Eradication Campaign took on Rotary as its partner, there were approximately 365,000 cases each year, worldwide. This year, there has been 1 case in Afganistan, and 1 case in Pakistan, meaning we are very close to completing that mission.
Jim: Jim's son is a contractor for Americorps, a government based volunteer organization, and he noted that they are short on volunteers. His son was also offered a job working for the headquarters in Los Angeles. Also mentioned that his mother passed away at 92 a week and a half ago. He noted that she was very generous with her money when it came to supporting causes and so he donated towards Polio in her name.
Ralph: Donated to support Polio.

Eric and Elsa: Eric announced that his daughter was donating to polio.
Stan: Welcomed Eric back and that it is good to see him. He thanked him for his participation in the Paul Harris program and his contributions to the Rotary Foundation.
Larry: Mentioned that they have a successful Peace Pole dedication in Dallas, Oregon. The Dallas Interact Club put poles up at the High school.
Paul: Noted that his 11 grandchildren will all be attending the Pancake Breakfast and he has already bought those tickets.
Dan: Mentioned that he just took his first vacation since December. He tried to to leave late and come back to work early but his new boss insisted he stay home and enjoy his full vacation. Additionally, noted that his 3 year old Jackson had a moment of maturity when Jaskson calmly said "I'd like to have a talk about learning to not use diapers at night."
Walter: Mentioned that he is not so skilled at computer skills but is making progress. That being said he had great technical help from fellow rotarians for helping him through it. Also mentioned that his granddaughter had gotten the opportunity to play National Championship Soccer. Awesome!
Brandy: Noted that there are approximately 40 people signed up for the Installation Banquet and is excited for the event.
Laura: Announced that we heard from our Friends at the Kathmandu Club in Nepal that they are about ready to resume in person training.
~ Today's Program: Pro Classification Talk with Eric Bergquam DMD ~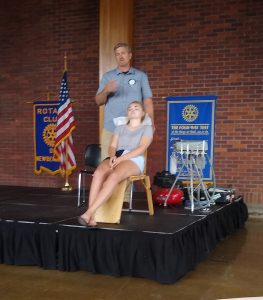 Eric Bergquam, a local Dentist, has been a Rotarian for nearly a decade, is a Paul Harris +8, participates in international dental volunteering, and is a board member for the Rotodent program. Eric grew up in Newberg since the 5th grade, graduating from Newberg High School, and getting his Biology degree at Linfield College. He then began working at OHSU doing molecular biology research. While at OHSU, a friend encouraged him to get into dentistry. He then went to discuss this idea with his longtime dentist he grew up going to and his dentist offered to allow him to job shadow and see how he liked it. Eric pointed out what a great opportunity this was and invited anyone in the club to come or invite others considering dentistry to come to his office to do the same. He ended up taking over that very same dentist office he grew up going to. They are in Newberg and provide all of the typical services needed.
Eric has a wife, a son, and a daughter (Elsa). He noted hobbies including outdoor activities including Skiing, hiking, fishing, hunting, rafting, wake boarding, gardening, motorcycling, basketball.
Eric also loves to spend time doing international volunteering as a dentist. He has done 9 trips total and does these trips through Medical Teams International as well as with Wide Open Humanitarian, which serves more geographically isolated areas. He often brings his kids to help serve on these trips: Elsa went on on two of the trips, one to Nepal and another to Peru. His son went to Nepal and Guatamala. It is a great experience, especially for kids, to see the world, serve, and see how good we have it in America. Eric noted that for the first trip they took to Nepal in 2015, Laura helped write a grant to Rotary International for $50,000 and also to Adec gave over $120,000 for them to set up 4 operatories in 2 different clinics in Nepal. He noted how often he sees good work being done by Rotary all around the world when he travels. He noted that anyone can volunteer, not just dentists. Volunteers who do not have medical skills are very valuable working with logistics and other non-technical aspects of the trips. If you are interested in working on one of these projects contact Eric to learn more and hear great stories.
Eric was introduced to Rotary by Grant Gerke. Eric wanted to buy portable dental units from A-dec and Grant insisted that he needs to buy these products through the program Rota-Dent. He got his travel kits and then was invited to come to a rotary meeting by Grant and joined the club 9 years ago, eventually also joining the board for Rota-Dent. As seen in the picture, Eric and Elsa set up and demonstrated the Tota-chair and Rota-dent kit for the club and expressed how quick, portable, easy to use and quality of these products. If you or anyone you know does volunteer dentistry, this is a great product for performing high quality dentistry with easy travel. Ken Austin designed these products himself and A-dec makes these units and donates a lot for the program (they donate the first 100 units and then sells at cost after 100). Rota-dent has donates its profits to the Noon and Morning Club and has done so for decades. Covid has taken its toll on activity, but previously was in the habit of giving about $50,000 to each club annually.
For more information on Eric's practice, visit https://www.bergquamdentistnewberg.com/
For more information on the RotoDent Program, visit http://rota-dent.org/
~ Next Week's Program: Oregon Community Foundation by Jenn Columbus and Deb Vaughn ~
Check your e-mails for Mike Caruso's Zoom meeting access information.
~ Joke of the Day ~
"I wonder: Do gun manuals have a 'TroubleShooting' section?"
~ Happy Quotes! ~
"Whoever is happy, will make others happy."
– Anne Frank
~ Published 7/30/2021: Dan Keuler, Newsletter Editor ~