Newberg Noon Rotary Club Newsletter for August 21, 2019
Kim Abraham was Greeter today….and "hang on to your hats, folks!" As this issue includes a pictorial introduction to the 2019 – 2020 Rotary International Convention in Hawaii!

President Corey Z. opened the meeting having Todd Engel lead us in the Pledge.
Gene Piros introduced his wife, Rebecca.
Our "Rotary Moment" was provided by Auggie G….telling us about the new volunteers stepping up to help with the next Dental Project scheduled in Guatemala….and reminding those present that there is still room for additional "hands on deck" with that.
Spike Sumner spoke briefly on the Club's Foundation Board members…and a quick…unanimous…vote was taken to accept the names presented of those who have agreed to new stints on the Board.
Paul Jellum let us know that his honey bees have been very busy…and freshly-bottled HONEY is now available….how SWEET it is!

Jim McMaster commented on his recent trip to visit son Spencer in Africa….with a plethora of stories and good things to say about the warm hospitality extended to them by the locals while there. He also had a contribution from a lady named….hmmmm…LEAH! Who has now moved to Seaside…and is joining their Rotary Club!

Geoff Gilmore busily went from table-to-table with the DUCK collecting Polio Eradication $$$…with the suggestion that we each give a story about our Mothers…and several Rotarians obliged. $62 was collected.
Membership Chair Kim A. officiated on the induction of a new Rotarian…who is also the new City Librarian….
…Will Worthey.
…..with Prez Corey, Kim A., and Will's sponsor, Paul Jellum…..congratulating him in front of his new club…as we look forward to hearing more about Will when he gives his Classification Talk.
Today's presenter…new Rotarian, Brandy Penner….giving her Classification Talk….charming us with her story, supportive photos….and quick wit.
"Tell me, what is it you plan to do with your one wild precious life?" My answer is to serve. I was born in Portland and grew up in Vancouver, WA. I was close to my grandparents who taught me the value of service to country. My grandfather served in the Air Force for 30 years as a radio operator and my uncle served in the Army for 30 years as a Warrant Officer. I grew up with a strong interest in current events, politics and with a deep understanding of my responsibilities as an American. I began serving my community in high school as a volunteer at Good Samaritan Hospital and the YWCA in Vancouver. I enjoyed these experiences and they inspired me to major in social work at Washington State University. I continued my service and leadership experiences in college as a member of Sigma Kappa sorority. After graduation I worked in the field for a year and then returned to school at NYU in pursuit of my masters degree. Throughout this time I worked with people who had been affected by domestic violence, sexual assault and those battling HIV/AIDS. This experience taught me to look at life through a strengths perspective. To find the strengths in people and situations in order to begin to grow and heal. Life soon took a turn and I found myself back on the west coast and as a flight attendant. I met my husband Miles in 2003 and we were married in 2005. Soon after our first son Owen was born, followed by Elliott and Phoebe and I became a stay at home parent. We enjoy spending time in nature, skiing, hiking and traveling. I am the current Chair of the Newberg School Board and the regional representative for Yamhill and Polk counties on the Oregon State School Board Association Board of Directors. I am passionate about serving my community and am honored and excited to continue my service through Rotary!"
..and she had her own personal "cheering section" with her today…her hubby and their three kids: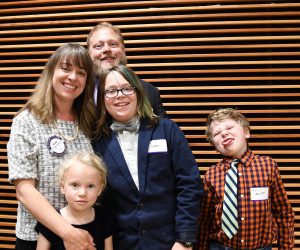 Hubby Miles [software engineer at Intel], Phoebe [age 7], Owen [age 12], and Elliot [age 9, who looks like he has a bit of "ham" in him!]…..
…. and their bright-eyed "littlest angel", Phoebe, is SO CUTE…as she apparently had just lost a tooth last night!
…with "future Rotarian" Phoebe starting "service above self" early by helping Ralph Koozer decide on his lunch choices!
…..then Brandy is congratulated by Prez Corey before he took her Red Ribbon from her.
So refreshing to see delightful, new, young faces with warm/giving hearts joining Rotary….committing to service to our communities…locally, regionally, and internationally….guided by the principles found in Rotary's Four Way Test of the things we think say or do….
First – Is it the TRUTH?
Second — Is it FAIR to all concerned?
Third – Will it BUILD GOODWILL and BETTER FRIENDSHIPS?
Fourth – Is it BENEFICIAL to all concerned?
THINK BIG! It is not too early to be thinking about attending the 2019-2020 Rotary International Convention being held in Hawaii! The September issue of The Rotarian Magazine has lots of details & reasons to visit this "island paradise" and celebrate ROTARY with fellow Rotarians from around the world! Whether you are a first-time visitor or have been there before…there is always something new/exciting to see/do in Hawaii! A day trip to the Seven Pools near Hana on Maui is note-worthy all by itself!
Are you a surfer?
WOWSER! So many sites! Or do you just prefer "browsing" in the myriad shops?
It's all there! Bustling beaches
..quiet/hidden coves..
.whale-watching
….take a day trip to the island of Lanai…
and you might even be lucky enough to swim with the porpoises.
..been there, done that! Snorkeling…scuba diving…check out octopi
and moray eels
in their own natural environments….hang-gliding…
OR a trip to Diamond Head on Oahu…
maybe visit the top rim of Maui's dormant volcano Haleakala
. Or get as close to the still-active volcano, Mona Kea,
….as is safe…take a mule ride down the escarpment to the old Leper Colony on Molokai
….find out first-hand how/where pineapples are grown..
..visit the USS Arizona Memorial at Pearl Harbor…whatever works for YOU! Check your latest Rotarian Magazine or go on-line to get more information on the International Rotary Convention! The experience is truly an example of RI President Maloney's theme….
Respectfully submitted,
Rick Kaufman
Newsletter Editor