Newberg Noon Rotary Newsletter for October 24, 2018
Judy Robinson was today's GREETER….Thank you, Judy! [Check with Paula to sign up to be a GREETER…also consider offering your own special "Rotary Moment".]
Maintaining her usual high level of INSPIRATIONAL excitement, Club President, Om, opened today's meeting…look at that contagious smile!

Walter Want led us in today's Pledge…Thanks, Walter!
Guests today were: Renee Brouse, Assistant District Governor; Lauren Clifford and Marni Tilrico…family of Laura Tilrico…visiting from Alaska. Welcome, all! [Renee, a good friend of Om's, received a little special "Welcome!" gift!]

Announcements: Sign-up sheets were at each table for the various ways we can be involved with our Annual Auction…it is not too early to sign up…as this is our biggest fundraiser…and it will be held in the Cultural Center for 2019…which is a major change from last year's event. If we each do our part[s], the Club will be able to continue doing its part in supporting our community's needs!

Next week's meeting, October 31 [Happy Halloween!], will be Bob Andrews, Mayor of the City of Newberg Saying Goodbye "Reflections and Roads Forward" the meeting will be at the Cultural Center.
Leah reminded us again of the Christmas Tree Lighting Ceremony is scheduled for Dec. 1, 4:30 – 5:30 PM at the Cultural Center. That's coming right up!

…NEWS FLASH! Here are a few photos from Ken's birthday celebration! With several Rotarians from BOTH Newberg Rotary clubs, and our District Governor Larry Hatch as well. Ken was founder of adec…in the early 1960s..and has been the world's largest manufacturer of dental equipment for a L O N G time. Two examples of adec's products displayed on the stage are shown here:

Hopefully, we will soon get a more in-depth report on that morning's festivities! It looks like a good time was had by all!

Be reminded that the e-mail link is on the club's website for volunteer sign-ups for Senior Meals, etc. https://signupschedule.com/noonrotary
Instead of our usual DUCK routine, Becky Ankeny led us in a repeat of the "Cake Walk" activity from last week, but with a bottle of wine in lieu of a cake….and Mike Caruso started off with a $100 donation…into the Duck it went…and the "ante" was a suggested $10 this time, with all proceeds going toward Polio Eradication…so…nearly every space was covered, and Laura Tilrico won the bottle of wine! It is obvious that Newberg Rotarians know how to have F U N !!!

Today's Program: A visit from our Rotary District Governor is always a treat…and today was especially so for Yours Truly, Editor Rick, as DG Larry Hatch is a long-time personal friend of mine…even before he was a Rotarian...as we both grew up in the Forest Grove area…and were both Charter Members of the Forest Grove DayBreak Rotary Club in 1991. So it was my pleasure to introduce our District 5100 Governor, Larry Hatch!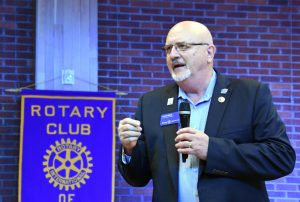 D.G. Larry served as Club President twice, and was an Assistant Governor for three [3] years. After serving in Viet Nam in the Army as a Military Police officer, he began a 41-year career in public safety. 13 years as a police officer and the last 28 years as the Assistant Director of Washington County 9-1-1 before retiring in 2015. He believes we must all be global citizens and chose Rotary as his pathway for service. To that end he is a proud Rotary Foundation Triple Crown donor. Larry has been married to LaDonna for 45 years. They live in Forest Grove and have one daughter, Christy, and a granddaughter Abbey. Larry and LaDonna are both retired and enjoy heading out in the RV to explore the backroads of Oregon and surrounding states finding unique places you can't see from the highway. He is an avid sports fan supporting the OSU Foundation and all things Beaver.
D.G. Hatch primarily discussed three important aspects of Rotary…PARTICIPATION, The Rotary Foundation's efforts/successes on Polio Eradication, and YOUTH programs…principally Interact and Rotaract...as THOSE YOUTH are our FUTURE ROTARIANS! At an International Convention he spoke with RI President John Germ regarding the importance of MEMBERSHIP….and shared some ideas gleaned from other clubs' successful membership recruiting efforts around the world. Larry told us that District 5100 had broken several Rotary records per Foundation contributions ….most recently exceeding $1 Million dollars...and said that "Rotary is a Force of Nature".…then described the deeper meanings of the aspects of this year's Rotary International banner symbol…a wave, sail and growing heart. D.G. Hatch encouraged us to participate in The Rotary Foundation's [TRF] "Rotary Direct" plan for consistent contributing…and/or "The PolioPlus Society of Rotary District 5100". For questions regarding these programs, please contact Doug Taylor at dougtaylor7160@gmail.com or call at: 503.421.5329 Also, forms can be sent to the District Office by e-mail office@district5100.org or fax at 503.605.5101

Commenting on Newberg Rotary's 82 years since initial chartering….and all the good things we do for the local community and beyond…such as the recent Rotary Mural, our international projects, and more, he acknowledged three [3] Newberg Rotary "Champions"…and presented each with a unique Oregon Myrtlewood plaque:

1. She is a very fun energetic person who loves the "Mama Mia" movie. Of course, she can dance and have a good time with so many hats she wears for multiple tasks she takes on. All her work gets done marvelously. To work with her is just like lighting a Christmas tree. Warm and Joyful. Champion Leah Griffith.
2. He is a very competitive person. Winning is his motto. And he continues to bring victory to our community. He joins us together to build beautiful clean recreation parks. His final project before his retirement is a top notch Chehalem Aquatic Center. Champion Jim McMaster.
3. Speaking of innovation, being an extraordinary type, thinking outside the box, realistic, and communicates well with different age groups. Given his challenging personal life, he is always there to support us. The latest mural project said it all about this capable Rotarian. Champion Geoff Gilmore.
In turn, President Om presented District Governor Hatch with a bouquet of blue & yellow flowers…and a bottle of wine from Mike Caruso.

Thank you, District Governor Larry Hatch, for further Rotary enlightenment & encouragement!
AND…we all are reminded of the date and location for the 2019 Rotary District Conference: May 17 – 19, 2019, at the "Riverhouse on the Deschutes", Bend, Oregon…SAVE THE DATE!
President Om had District Governor Larry close our meeting with the ringing of our Club's Rotary bell!
~ "Be the Inspiration!" ~
October is Rotary's Polio Eradication Month….so here are some recent polio stats….
Number of Wild Poliovirus Cases Globally as of October 16, 2018
New Cases Last 7 Days 1
YTD – 2018 20
YTD – 2017 12
Total – 2017 22
Total – 2016 37
Total – 2015 74
Total – 2014 359
Total – 2013 416
Total – 2012 223
Total – 2011 650
Total – 2010 1,352
Total – 2009 1,604
Total – 2008 1,651
Source:
http://polioeradication.org/polio-today/polio-now/this-week
Respectfully submitted,
Rick Kaufman
Newsletter Editor
And a "BIG THANKS!" to Auggie for the terrific photographic coverages!