Leah Griffith, our president-elect and fabulous newsletter editor, is in Seoul, South Korea, attending the international convention. In her absence, I (Suzanne Miller) will be trying to do the newsletter. Thought you might enjoy seeing a photo of Leah checking into the convention.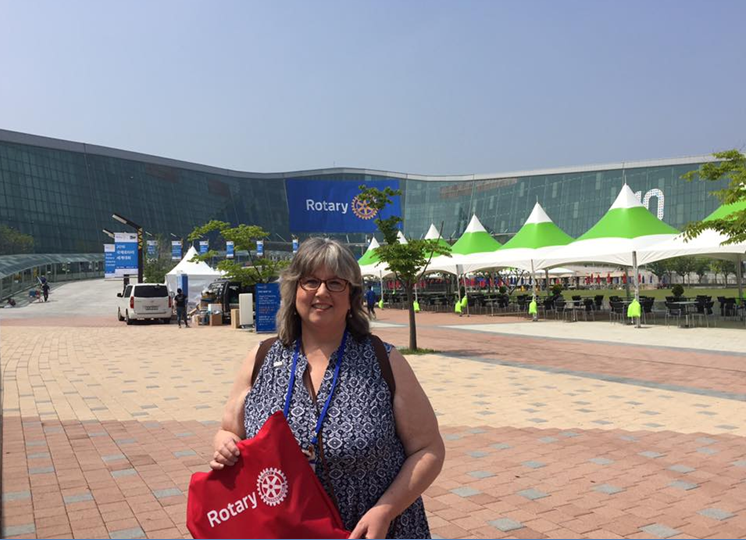 Last week's meeting
Imagine that. We met at Friendsview last week and Todd Engle, the director of the facility, was actually there. At the meeting held at his facility. In person. A first and maybe a last!
It was a casual meeting, with lots of talk of 490-lb. bathtubs and kitchen sinks.
However, it was also an award-filled occasion.
President Jim announced terrific news that our club will give out $47,000 in scholarships this year. He will be awarding them at various schools during the next two weeks.
Jim also reported on that our club won a Presidential Gold Citation at the District Conference in Vancouver, WA recently. One of only six clubs to get one, and we got one last year, too!
The Presidential Awards are given to clubs that meet or exceed established goals, such as growing membership, performing a sustainable service project, giving to the Rotary Foundation or building awareness of Rotary in your community.
Jim mentioned that there are 168 Paul Harris Society members in our District. This year there were 19 new members, and out of the 19, 13 were from our club–thanks to the efforts of Mike Caruso. Nice job, Mike!
Mike presented Paul Harris Society awards to six folks: LeRoy Benham, Eric Berquam, Jeff Gilmore, John Kerkanich, Leona Todd and Jan Winters. Congratulations and thank you all!
[ezcol_1third]
[/ezcol_1third] [ezcol_1third]
[/ezcol_1third] [ezcol_1third_end]
[/ezcol_1third_end]
[ezcol_1third]
[/ezcol_1third] [ezcol_1third]
[/ezcol_1third] [ezcol_1third_end]
[/ezcol_1third_end]
Four guests attended our meeting, and we're not sure what they thought of us.
Britta Stewart, our summer intern who is writing the history of the Newberg Rotary Club, was a guest greeter. Britta is from Tigard, and is a junior at George Fox, majoring in History.
Tara Curcio, an intern with Friendsview, was also there. She is studying at Penn St. to be a dietician.
Judy Robinson and Matt Stephens came to the meeting to check out our club. (Hey Matt, as I was jogging around the track at GFU on Sunday, I saw your banner ad on the fence!)
Don't forget, we're meeting at Friendsview again this week.
Muchos thanks to Auggie Gonzalez for the photos and captions.