Here's what happened this week at Rotary….
Guests: Jack Hodges, visiting and potential Rotarian, Gretchen Boock (here to see husband Mike's induction to Rotary), Roger Kuhlman, visiting early bird Rotarian.
Announcements: Thanks to Denise Bacon and Dawn McClard who will be doing the newsletter while Leah Griffith is off on vacation for the Sept 30 and Oct 7th meetings. Deborah Cathers Seymour announced her newest grandchild. She and her husband have 17 grandkids between them!
Suzanne Miller thanked many for their help with the International Day of Peace last Saturday.
Did you sign up for the Rotary's Facebook page. Do it now. www.facebook.com/Newbergnoonrotary You can keep up with Rotary this easy way.
Duck, Duck: Congrats to Ray Simonson on his 61st wedding anniversary.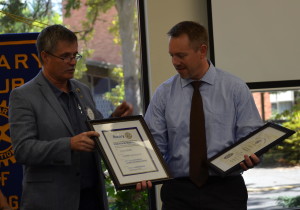 Congratulations to our newest Rotarian, Mike Boock. He was inducted today and he's already on Grant Gerke's list for the Pancake Breakfast. Welcome Mike and we look forward to getting to know you and your family.
Program: Anne DeLano is one of the organizers of the monthly Contra Dance at the Chehalem Cultural Center. Contra dancing is all about community building and that's a good fit with Rotary's principals of fellowship and community as well.
Mary Harwood is her co-organizer for the monthly event and she and her baby joined us. Contra dancing is social dancing, you don't need a partner. You dance with anyone and everyone. The basis is English country dancing but you don't have the fancy dresses and you don't even have to know how to dance, they'll teach you and there are callers (like in square dancing) that tell you what to do. One of the great thin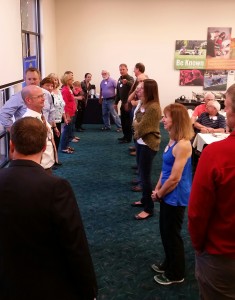 gs about it the live music, that is a key attraction.
Anne shared a couple of videos that showed a beginning lesson and then a group in Portland dancing. One thing was clear in both videos, it's ok to not know what you're doing and in fact, that seems to add to the fun.
With that introduction, Anne got 20 Rotarians in formation and she put us through a few steps. We laughed, we stepped on toes, we bumped into each other, but we had fun! And that's what contra dancing is all about.
If you'd like to try it out yourself, go to the 3rd Wednesday Contra Dance at the Chehalem Cultural Center from 7 to 10 pm. It's $8 (only $7 for seniors or members of the CCC) and lessons start at 7 pm. That small fee helps cover the live music, and many of those musicians are coming from the Portland area. Also check out their facebook page at at Newberg Contra Dance for more information.
Thanks Auggie Gonzales for the photos.
Send news to Leah Griffith, Newsletter Editor at newbergnoonrotary@gmail.com.